Super sleeper Saab 900 does 174 mph in the standing mile
Sun, 14 Apr 2013 19:03:00 EST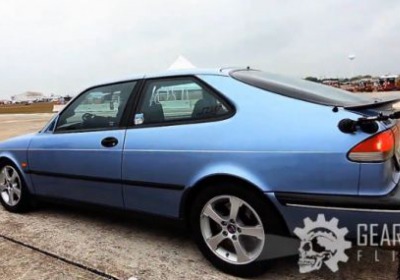 Somewhere behind Hennessey setting a new top speed record at this year's Texas Mile with its camouflage Ford GT, a stock-looking 1996 Saab 900T pulled up to the line to see what it could do. The dealer showroom wheels wouldn't offer any indication that the 2.0-liter four-cylinder under the hood was getting help from a Garrett turbocharger, a tuned ECU and E85 gas to put out 465 horsepower at the front wheels.

Knowing that, it shouldn't be too much of a surprise that at the other end of the mile the sky blue Swedish wonder was doing 174 miles per hour. The four-cylinder class at the Texas Mile has plenty such rockets, too, this Swede coming just behind a Dodge Neon that did 175.8 mph. You can watch the Saab do its thing in the video below.



---
By Jonathon Ramsey
---
See also: Vampire Weekend singer responds to burning Saab controversy [w/video], Saab's never-was 9-3 gets a few better looks, Vampire Weekend burns for Saab.