Subaru ending Tribeca production in January?
Fri, 18 Oct 2013 16:27:00 EST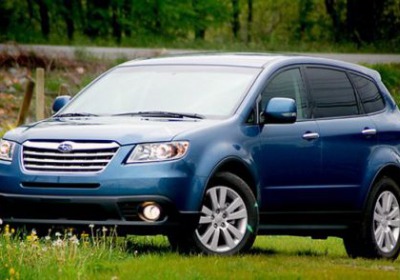 The writing has been on the wall for some time, but it seems that Subaru is finally pulling the lever on the guillotine to put the midsize Tribeca crossover out of its misery. Jalopnik has what appears to be a communication from Subaru to its dealers announcing that the final Tribeca will roll off the Lafayette, IN assembly line in January, with the last dealer delivery expected to occur the following month.

The last report we heard regarding the Tribeca said that Subaru could be planning a fullsize, three-row crossover, possibly to compete against the Nissan Pathfinder and Ford Explorer. Dropping the Tribeca would leave the automaker without a three-row crossover for the foreseeable future, but according to the memo, Subaru has sold just 78,000 Tribecas since 2005 making it one of the worst-selling vehicles in the US in 2011 and 2012 – for comparison, the automaker has already found 84,372 customers for its new Forester this year (through September) alone.

We have reached out to Subaru for comment on the Tribeca's passing, but have yet to hear back as of this writing. Stay tuned for an update, when and if we get word.
---
By Jeffrey N. Ross
---
See also: Drive looks at a pair of STI-ified Subaru Impreza RS Coupes, Toyota to offer sedan version of GT 86?, Subaru Forester named Motor Trend 2014 SUV of the Year [w/video].