Subaru Viziv Evolution Concept looks strangely familiar
Thu, 21 Nov 2013 14:40:00 EST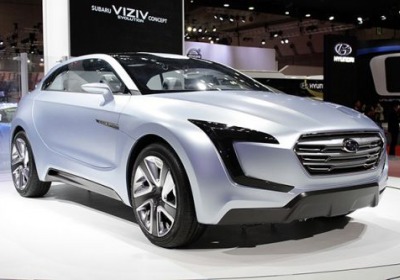 The Tokyo Motor Show has proven to be far deeper and more interesting in 2013 than it has been in recent years, surely a trailing indicator of the revived auto industry in Japan and throughout the world. Still, we have seen a few concept cars that have been nearly 'recycled' from shows earlier in the season.

This Subaru Viziv Evolution concept is a case in point – it looks not unlike the Viziv Concept that the company hauled over to the Geneva Motor Show in March of this year. What gives?

Well, the original Viziv wrapped its sexy crossover-coupe bodywork around a powertrain composed of a 2.0-liter diesel engine and three electric motors, two of which powered the two rear wheels (another trendy hybrid setup). This new "Evolution" of the Viziv is not dissimilar from its progenitor, swapping in a small displacement gasoline-powered engine for the diesel unit. All of this is based on reports out of Tokyo, mind you, as official information on the car is scarce at the moment.

Visually, the Subaru design team has left well enough alone, swapping in a few black trim pieces on the exterior to show that changes under the hood have taken place. That's not bad, as the Viziv was pretty handsome to begin with. Stay tuned to our Tokyo coverage for more on the Viziv Evolution as soon as we can dig it up.
---
By Seyth Miersma
---
See also: Toyota FT-86 Open Concept leaves us feeling flushed, Subaru Legacy Concept has us getting our hopes up, 2015 Subaru WRX looks to set a new benchmark in LA.