Subaru Legacy Concept has us getting our hopes up
Wed, 20 Nov 2013 14:58:00 EST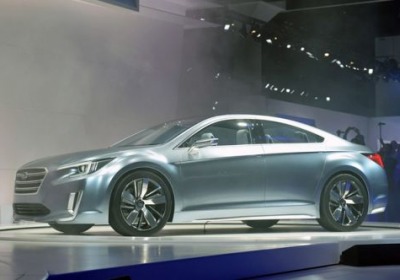 It happens all the time. We get excited about a really attractive Subaru concept, and then the production car comes out and, well, "disappointed" isn't a strong enough word. (Compare that hot Impreza concept to the final production car.) So while we're hopeful that this new Legacy concept previews something sleek for Subaru, allow us to be fully on record as not getting our hopes up.

Anyway, let's talk about how good this car looks. From the front, comparisons to the Buick Regal GS are warranted, but from all other angles, it has a very four-door coupe-like shape. The concept rides on 21-inch wheels with bulging wheel arches that Subaru says hints at the car's all-wheel-drive system (standard Subaru fare, BRZ aside).

As for what exactly this concept previews, the safe guess is, of course, the next-generation Legacy midsize sedan. And while we'll keep our fingers crossed for a sweet-looking production sedan to come out of Fuji Heavy in the near future, it's safe to say we're still skeptical.
---
By Steven J. Ewing
---
See also: 2015 Subaru WRX looks to set a new benchmark in LA, Subaru Levorg Concept has us dreaming about a WRX wagon, Subaru Cross Sport Design Concept is a BRZ with a backpack.