Singer 911 gorgeousness explored and experienced by Chris Harris
Thu, 17 Jan 2013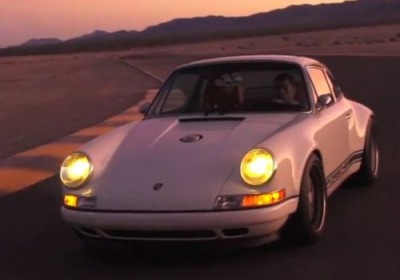 Few things get us as cranked up as a Porsche 911. Generation after generation, this rear-engined oddity has exhilarated our senses, and the new 991 is the most capable iteration yet. Even so, there's a lot to be said for the older models, from their lighter weights and more modest dimensions to their air-cooled thrums.

That elemental vintage Porsche appeal hasn't been lost on Los Angeles-based Singer Vehicle Design, which has endeavored to take the best bits from every generation of 911 and combine them into one impossibly sexy rear-engined machine. Based on a 964 donor car, we knew that a lot of work would need to go into everything from the structure to the bodywork to realize the Singer's cohesive aesthetic and dynamic vision, but we didn't know just how much until we watched this Drive video featuring Chris Harris. The auto journo gets time with the 350-horsepower, Cosworth-motivated coupe on both mountain passes and at the track, but what could be the most interesting thing about the 27-minute-long video is his in-depth plant tour.

Check it out by scrolling below, but not before paging through our new Singer 911 gallery.


---
By Chris Paukert
---
See also: The 2014 Porsche Cayenne Turbo S brings 50 extra ponies to Detroit, Porsche Museum highlights history of the 911 RSR, Porsche offers design walkthrough of Panamera Sport Turismo.