Shelby boosts production of 575-hp Raptor on early demand
Mon, 08 Apr 2013 08:45:00 EST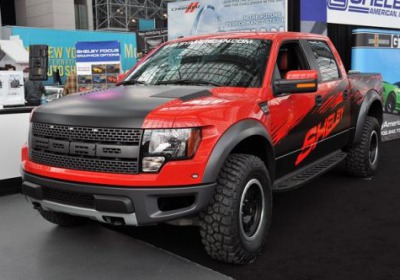 Shelby American unveiled its all-new Shelby Raptor at the New York Auto Show last month, saying that it would build just 100 examples of its off-road bad boy, a pickup priced at $17,995 over the cost of the donor Ford F-150 SVT Raptor. But the Las Vegas outfit apparently underestimated just how popular the supercharged 575-horsepower 4x4 would actually be.

Strong early demand reportedly has Shelby singing a whole new tune, as the company is now saying it will build upwards of 500 units annually. While the increased production will likely make for at least 400 more happy owners, those who were on the original short list – possibly speculating on future values – might not be grinning as much. Needless to say, the company has assured everyone that each and every one of the modified Raptors will still be listed in the official Shelby registry.

Keep in mind that Ford isn't sitting idle on its trophy-truck-for-the-street, either. The company will reveal its own 2014 F-150 SVT Raptor Special Edition this month.
---
By Michael Harley
---
See also: 2013 Ford Explorer Sport, Ford reveals concept trucks that ultimately became Atlas, Autoblog Podcast #327.