Saab 9-3 production has restarted
Sun, 01 Dec 2013 14:00:00 EST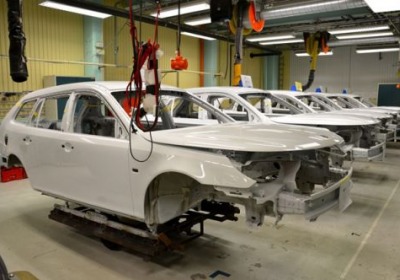 If you're one of the small cadre of Saab drivers, first of all, kudos to you. Because as Top Gear pointed out, Saab drivers are among the most intellectual drivers out there. Secondly, we've got good news for you, because the 9-3 has officially resumed production at the Trollhättan plant in Sweden.

For those of you who may not have followed the story, a quick refresher: Founded in 1947, Saab Automobile AB was an independent automaker until 1989 when General Motors began the decade-long process acquiring it. Unable to make it profitable, GM sold Saab to Spyker in 2010, but that Dutch automaker proved unable to make a go of it, either, and finally shut it down a year later. Much of Saab's assets were acquired by National Electric Vehicle Sweden, which in turn is partially owned by the Chinese city of Qingdao, which pledged to get production back online by the end of the year.

NEVS has apparently made good on its promise, bringing 600 workers back to the factory to resume production of the 9-3 much as it was when a workforce of 3,500 labored on it and its stablemates prior to the bankruptcy. The reborn 9-3 will be sold in Sweden and in China, with an electric version to bring some other updates sometime next year.
---
By Noah Joseph
---
See also: Saab 900 SPG is the latest Petrolicious love story, Victor Muller to pay Sweden back taxes for Saab work, Saab restarts production line in Trollh"attan.