Runway Rumble: Nissan GT-R, Ducati 1098 and Lamborghini Reventon Roadster battle it out
Tue, 29 Jan 2013 20:01:00 EST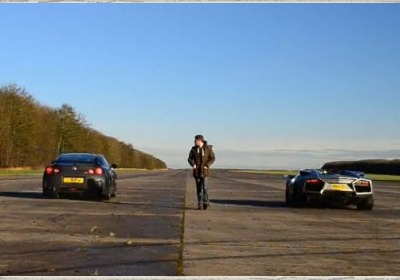 One 2.5-mile runway, three different ways to take off: a Ducati 1098, a tuned Nissan GT-R with 580 horsepower and a launch control upgrade, and a Lamborghini Reventon Roadster. You'd naturally expect the Ducati to assert it's lightweight, high-horsepower authority in these matters, but with more than two miles to run, the ride that gets the jump at the line isn't always the one that gets the win.

That comes in especially handy for the Lamborghini, which suffers from a bad start in the first race and just looks plain ordinary in the second, until it finds redemption. You can see how it all goes down in the video below.


---
By Jonathon Ramsey
---
See also: This is Lamborghini's evil-looking new racecar, Autoblog Podcast #318, 2014 Nissan GT-R squeaks in under $100k*, Murano CrossCabriolet priced, too.