Rolls-Royce Ghost getting a nip and tuck
Fri, 26 Apr 2013 16:30:00 EST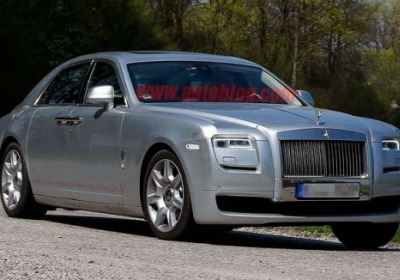 While there isn't too much competition in the "vehicles priced more than houses" market, automakers still have to keep their products fresh, and it looks like the Rolls-Royce Ghost could be getting a slight facelift for 2014. Like the rest of the Ghost, these spy shots show that Rolls-Royce even makes exquisite body camouflage as it takes a close look to really see that any material has been added to the face.

From what we can tell, though, it looks like the Ghost might be getting a nip/tuck to the front end. This will bring its appearance closer to what we saw on the Rolls-Royce Wraith – the coupe version of the Ghost that debuted back in March at the Geneva show – reshaped headlights that feature LED running lights and also what appear to be LED turn signals. More minor changes to the Ghost include restyled door mirrors that might get some aero tweaks, as well as a smooth rear fascia devoid of visible exhaust outlets.

What we don't know is whether the Ghost will also be getting the more powerful version of the V12 found in the Wraith that produces 624 horsepower and 590 pound-feet of torque, versus the current Ghost's 563 hp and 575 lb-ft.
---
By Jeffrey N. Ross
---
See also: Rolls-Royce Alpine Trial Centenary Collection celebrates century-old Austrian race, Rolls-Royce Ghost gets in the pink for breast cancer charity, 2014 Rolls-Royce Wraith is everything you need, everything you don't [w/videos].