Roadkill builds crazy-cheap 1968 Dodge Charger rat rod using an old motorhome
Tue, 24 Dec 2013 19:05:00 EST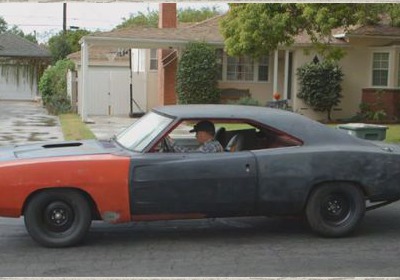 Certain requests for description simply cannot be fulfilled, like if someone asked you to describe Picasso's Guernica or Gilliam's Brazil. There is only one appropriate answer to such entreaties, and that is: "You just gotta see it." That's where we are with the latest episode of Roadkill, wherein Messr's Freiburger and Finnegan dig out a 1968 Dodge Charger that Freiburger acquired in exchange for a set of cylinder heads, and intend to stuff it with the big-block motor from a long-bed, three-quarter ton Dodge pickup.

Only the pickup is too nice to tear apart, and the Charger needs a whole lot more lovin' – and parts – than initially expected. Enter, stage right, the Class A Dodge Pace Arrow motorhome with a 440 big-block purchased for $1,000, and a retired Plymouth Fury from a previous episode.

What ensues over the course of the 40-minute installment is more cuttin', yankin', leakin', stallin', hammerin' and smokin' action than you've seen in a long time, and some techniques that would have made even Cooter wonder, "I'm not sure if we should do that." By the end, though, the payoff is good enough to make you think about perusing AutoTrader for a '68 Charger just to see if maybe...

And still, we haven't properly described it, so have a watch of the video below.




---
By Jonathon Ramsey
---
See also: Chrysler recalls AWD 300, Charger, Ram 1500 over ZF transmission, 2013 Dodge Dart GT, Chrysler recalls small number of 2013-2014 cars and trucks over engine debris.