Road & Track to take Miata on million-mile march
Sat, 11 Jan 2014 11:00:00 EST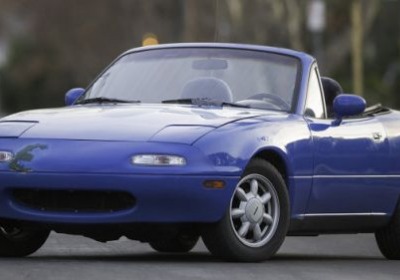 Road & Track has taken on a Miata project. One hell of a project, if we're honest. You see, the Miata in question, a 1989 example in Mariner Blue, isn't a high-mileage Mazda that the publication intends to fix up, or make race-worthy, or try to flip or give away to a reader or something. No, it's a rather typical well-used NA, with a hefty 325,000 miles on the clock to-date that the staff plans on driving until the six-digit odo reads all zeros again. One million miles or bust (or both, most likely).

Procured for the bargain-basement price of $1,600, complete with seat covers that "really do look like muppet pelts" (according to Zach Bowman) and a bondo-filled love tap on the nose, the NA Miata actually looks like just the sort of fun-machine that a real driving enthusiast would pick up to get some cheap thrills in. The R&T team already has some interesting plans for the Miata, including a potential run up Pikes Peak and loaning it out to readers (or perhaps your author...). Click through to read all about it.
---
By Seyth Miersma
---
See also: Mazda delays US launch of Skyactiv-D engine, Mazda hard at work on Skyactiv 2 engine technology, Mazda begins building Mazda3 in Mexico for US.