Recap: 2013 Australian Formula One Grand Prix is all about the rubber [w/spoilers]
Sun, 17 Mar 2013 18:01:00 EST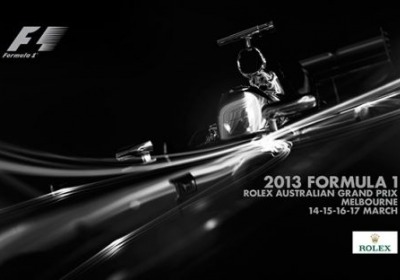 A pre-season full of talking points was swapped for a brand-new set of talking points after the running of the opening grand prix of the 2013 Formula One season. The consistency of the regulations from last year to this year and the triplicate dominance of Infiniti Red Bull Racing meant that no one would have been that surprised if the relative order of things remained the same. But teams found so many ways to switch things up that, in typical pre-season fashion, no one was ready to make any bets on in-season performance, and a couple of surprising players suffered the ignominy of getting it really wrong: McLaren knew it was in trouble from the very first test, while Williams drivers applauded their car as the best in years, only to have Pastor Maldonado call it "undriveable" on the very first day of practice in Melbourne.

And then there were those Pirellis, the Italian company talking up the fact that its super soft tires would only go off so quickly that it would force teams to pit at least twice during the race.
Even then, no one could have seen the first round of pit stops beginning on Lap 5.

Nevertheless, someone had to win the 58-lap race – and that someone did it in what is becoming his usual style.

Horrendous weather on Saturday led to a delay in qualifying until after the Q1 session, but the first cutoff speared two big names in Maldonado, unhappy with his Williams and Sauber rookie Esteban Gutiérrez getting a hard lesson in not being good enough his first time out. After them, Marussia's all-rookie team beat Caterham's all-rookie team for the last four places.

When qualifying resumed Sunday, no one was shocked that Sebastian Vettel took his 37th pole position (he's third on the list after Michael Schumacher and Ayrton Senna) in Infiniti Red Bull No. 1 with his teammate Mark Webber lining up beside him. It was Lewis Hamilton that delivered the unexpected, putting his Mercedes-AMG Petronas in the third spot, followed by Felipe Massa who outqualified his Ferrari teammate Fernando Alonso. Then came Hamilton's teammate Nico Rosberg, Kimi Räikkönen and Romain Grosjean getting the Lotus cars up to seventh and eighth, and the ambitious Paul di Resta lining up ninth in his Force India ahead of the woefully out-of-sorts McLaren driven by Jenson Button – last year's winner and winner of three of the last four Australian Grand Prix – in tenth. The second McLaren of new-hire Sergio Perez was back in 15th.

When the green lights lit up, one storyline that didn't change is Mark Webber's propensity for terrible starts. His car is so consistently hobbled by the same issues that we wonder if Red Bull chief Helmut Marko has put a hex on him. Webber's ECU failed on the parade lap, that caused his clutch to go out of whack for the start and his KERS to fail. From second on the grid he was swallowed up immediately, falling to seventh by the end of the first lap. He would finish in sixth.

On the other side, Vettel got his usual great start and it seemed like he was going to pull out a lead, but Massa had got around Webber, followed by Alonso, Hamilton, Räikkönen and Rosberg, and the Ferraris wouldn't let Vettel get away. All of the leaders were on super softs, and even though their quick degradation had been a big topic, no one expected McLaren's Button to open the pit stop window on Lap 5. Three laps later, Vettel and Massa came in for medium compound tires, soon followed by all of the top runners but Räikkönen. It was Force India's Adrian Sutil, however, just returned to racing after a year off the grid, who stayed out the longest of all having started the race on medium tires. He would lead the race for a number of laps, his car proving it was no fluke by staying in front of Vettel's Infiniti Red Bull.

The entire race would only see three 'incidents,' all of which arrived by the halfway point: Maldonado proved his point about the Williams when he spun off into the gravel on Lap 26 (his teammate Valtteri Bottas started 16th and finished 14th); reliability issues Mercedes had in preseason came back when Rosberg suffered an electrical failure and pulled his car over to end his race; and Massa might have been the victim of Ferrari tactics when, while leading his teammate, Alonso was called into the pits first and was able to leapfrog Massa to gain a place after Massa pitted.

It was Räikkönen and the Lotus E21 that schooled the rest of the pack in consistency and tire usage, picking up where they left off last year. Everyone else had to stop three times, but Räikkönen only stopped twice, and he picked off the cars in front whenever they had to dive into the pits. Hamilton, who had led the race at one point, ended up dropping back to fifth when he had to pit for a third time, and Sutil's race was likewise compromised when he had to duck in for super softs and try to make them last for 14 laps. He would finish seventh, still a good result for having started 11th.

Alonso's pit strategy and pace had got him in front of Vettel in third, but he couldn't catch Räikkönen – the Finn setting the quickest lap of the race only a few laps from the end. Those three would make up the podium, Massa taking fourth – exactly where he started the race, followed by Hamilton, Webber, Sutil, di Resta, Button and whatever-happened-to Romain Grosjean.

Räikkönen has scored points in 18 consecutive races, and the only lap he hasn't completed since his return was the one he missed because he took a wrong turn in Brazil last year. While other drivers were getting updates on positions and reporting on the tire situation during the race, Räikkönen's radio was silent – he just went out there and won, because, remember, he knows what he's doing.

Ferrari has finally had a pre-season that didn't turn into misery with the first race, and watchers are already wondering whether Infiniti Red Bull has a problem with race pace. Further back, McLaren knows it has Everest to climb, the Force Indias look like they could be a force this year, Sauber's an unknown with Nico Hülkenberg unable to start due to a fuel line issue and Gutiérrez learning the ropes toward the back of the pack, and the Toro Rosso racers showed some heart with each driver setting a quickest lap during the race.

But this is only the first race, and even though Räikkönen said his race was "really easy," his win wasn't decisive. The next race, and perhaps a different winner, is just seven days away. We'll see you then.
---
By Jonathon Ramsey
---
See also: Infographic: Comparing the Veneno, LaFerrari and P1 supercars, Ferrari and Apple deepening ties, FF gains Siri integration and standard iPad Minis, LaFerrari, meet YouTube. YouTube, LaFerrari.