Radical 2016 Jeep Wrangler suggested by job listings?
Fri, 31 May 2013 19:00:00 EST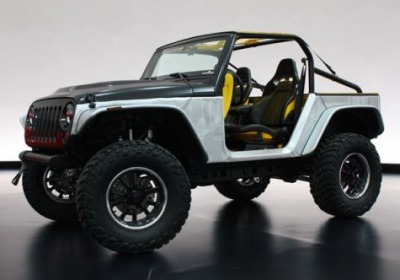 With most inside the industry expecting the next-generation Jeep Wrangler to arrive for the 2016 model year, it makes sense that the automaker would be looking for some choice candidates to to fill program openings as the off-roader goes through its development. A recent ad on Chryslercareers.com suggests to some that the lightweight Wrangler Stitch Concept, revealed just two months ago and shown above, provides some clues about the off-road icon's next iteration.

According to Automotive News, the job descriptions – which don't name the model specifically – hint that the next-generation Wrangler will benefit from a serious diet. The ads appear to seek those familiar with advanced high-strength steels, hinting that lightweight aluminum body panels may appear on the 4x4. In addition, there are suggestions that Jeep may fit the Wrangler replacement with air suspension, as seen on the Ram and Grand Cherokee, to retain ample off-road clearance yet lower that chassis to improve aerodynamics at highway speeds. The job postings reportedly also lend credence to the idea of a diesel Wrangler.

It seems every bit of the next-generation Wrangler is up for review, as it will be the first time this iconic model is redesigned under Fiat ownership. Questions remain whether or not the Jeep will retain its clip-down hood, easy-to-remove door pins and folding front windshield – loyalists expect them, but fuel economy and safety standards may crimp their cases for survival.
---
By Michael Harley
---
See also: WWII Jeep 'found in crate' set to cross Greenwich auction block, Freak accident during Jeep demonstration turns fatal, 2014 Jeep Cherokee facing production delay.