Porsche finally gives up the goods on 2014 Macan
Wed, 20 Nov 2013 00:01:00 EST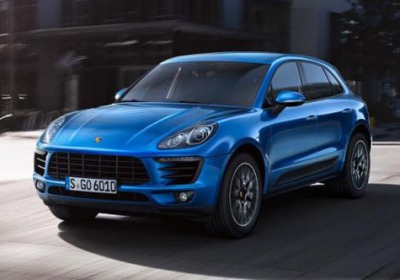 Preparing a beachhead in the marketplace for the 2014 Porsche Macan crossover has been a years-long project for the German company. We've been hearing and reporting on rumors of the vehicle from its ideation stage and have covered the Macan's birth thoroughly over the last 12 months, including teasers, rumors, spy shots, leaked videos and more. Now, just ahead of the LA Auto Show-debut of Porsche's first-ever compact crossover, the wait for details is at an end.

Porsche will offer the crossover in two flavors to start: Macan S and Macan Turbo. The S model will be fitted with a twin-turbocharged 3.0-liter V6 engine that makes 340 horsepower and will push the vehicle from 0 to 60 miles per hour in 5.2 seconds, then on to a top speed of 156 miles per hour. The Macan Turbo has even more impressive figures on all fronts: an all-new, 400-horsepower, twin-turbo 3.6-liter V6 engine; 0-60 mph in 4.6 seconds; top speed of 164 mph. Both models make use of Porsche's seven-speed PDK dual-clutch transmission as standard.

As impressive as these potent powertrains are the brakes Porsche is fitting to its new crossover. Six-piston monobloc fixed-caliper brakes live up front, grabbing 13.78-inch discs on the S model and tremendous 14.17-inch discs on the Macan Turbo. We're expecting serious stopping performance, to say the least.



The Macan is clearly positioned as a high-performance crossover with go-anywhere ability.
The Macan is clearly positioned as a high-performance crossover with go-anywhere ability. All-wheel drive is standard on both models, with Porsche Traction Management (PTM) equipped on all as well. The all-wheel-drive system sees the rear axle always coupled to the front via a multi-plate clutch, though Porsche says that up to 100-percent of "necessary" torque can be routed to the front, based on wheel slip. There is also a standard off-road mode for Macan, which alters shift points, pre-tensions the clutch and changes the front/rear torque split for low-traction conditions. Drivers can also activate an (optional) air suspension to gain an additional 1.58-inches of ground clearance, for a maximum of 9.06 inches.

You'll have plenty of time to digest and discuss the exterior design of the Macan in the coming days, but we're excited to see a bit more of the CUV's flashy interior. Porsche has given us only one image to go on so far, but the early returns are good. A new steering wheel dominates the driver's compartment, while a centrally mounted tach and paddle shifters complete the sporting vibe. Macan S comes standard with a Piano Black interior package and Alcantara inserts on the seats, while the Turbo gets bumped up with leather, brushed aluminum and 18-way power front seats.

There is, in fine German fashion, a novel's worth of information and specifications for the new Macan in the press release below. Pricing and initial availability information isn't among the 11,000 or so words, but we'll see what we hear on that front after the Macan makes its world debut.

The Macan is a Porsche through and through

Porsche is expanding its range to include a whole new class of vehicle. The Macan is the first Porsche model to break into the compact SUV segment and is poised to set new stan- dards in the field of driving dynamics and enjoyment – on both pavement and off road trails. The Macan combines the typical handling characteristics that Porsche has represented right from the start: highly competitive acceleration and braking figures, impressive engine power, extreme agility and optimum steering precision. What's more, all of these features are combined with a high level of comfort and everyday drivability. The sporty DNA of the Macan, as with all Porsche vehicles, is immediately recognizable in the design. This Sport Utility Vehicle is unrivalled in its flat and broad profile on the road. The wraparound hood and gently sloping roof line accentuate the overall impression of sporty elegance and power- ful dynamics. Many of the design elements have been taken from other Porsche sports cars and enhanced for the Macan, making it clear at first glance that the Porsche Macan heralds the first sports car in the compact SUV segment. The Macan is "Made in Germany", produced at the Leipzig plant. Porsche has invested 500 million euro in the plant and has established an entire production line there just for this dramatic new vehicle. The line is set up to produce around 50,000 vehicles per year – all manufactured with the utmost preci- sion and to the highest level of quality. Just what you would expect from Porsche.

Two models comprise the Macan product range at market launch. The Macan S is equipped with a 3.0 liter V6 twin turbo engine delivering 340 hp and features active all-wheel drive with an electronically controlled, multi-plate clutch. This all-wheel drive system is fitted on all Macan models. A seven-speed double-clutch transmission transfers power as required and almost without any interruption in tractive force, enabling the vehicle to accelerate from 0 to 60 mph in 5.2 seconds (or 5.0 seconds with the optional Sport Chrono package). The Macan S reaches a top track speed of 156 mph.

As the top model in the Macan model line, the Macan Turbo is set to be the most power- ful vehicle in the compact SUV segment. The 3.6 liter V6 twin turbo engine, which is being used in a Porsche model for the very first time, achieves an unrivalled 400 hp and catapults the vehicle from 0 to 60 mph in 4.6 seconds. With the Sport Chrono package, it is possible to achieve such a speed in 4.4 seconds. The Macan Turbo top track speed is 164 mph.

---
By Seyth Miersma
---
See also: Porsche 918 Spyder with Weissach package does 0-62 mph in 2.6 seconds, Road & Track names its 2013 Performance Car of the Year, Touring Italy in a classic Porsche will have you feeling continental.