Porsche Macan spied, all lit up and dodging flurries
Thu, 17 Jan 2013 16:58:00 EST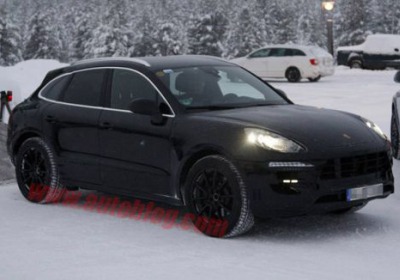 We've seen the upcoming Porsche Macan testing on surface roads and even on the Nürburgring, but here we have our first spy shots showing a disguised prototype doing some winter testing in snowy conditions. Still obscured by plenty of camouflage attempting to mimic its larger Cayenne sibling, we still can't get a clear look at what the Macan's face and rump are going to look like, although it does appear that some details for the front lighting are starting to emerge.

Below the headlights, those are obviously decals trying to look like turn signal lenses, but it appears that there is still some sort of lighting being hidden judging by the small circles cut into the camo. Lower in the fascia, we can also see there are LED running lights not revealed on past prototypes. The entire rear end of this Macan prototype still appears to be tacked-on camo, but the side view appears to be in production form save for the poorly disguised rear quarter windows.

As we've seen in the past, Porsche engineers are still testing the Macan alongside the Audi Q5 with which it shares its platform. There has been no word as to when we could expect to see the Macan in production or concept form, but we'd have to guess that this compact crossover is getting ready to shed its camo very soon.
---
By Jeffrey N. Ross
---
See also: Singer 911 gorgeousness explored and experienced by Chris Harris, The 2014 Porsche Cayenne Turbo S brings 50 extra ponies to Detroit, Porsche Museum highlights history of the 911 RSR.