Police arrest 'Fastest Lap Around Manhattan' driver [w/video]
Fri, 06 Sep 2013 19:15:00 EST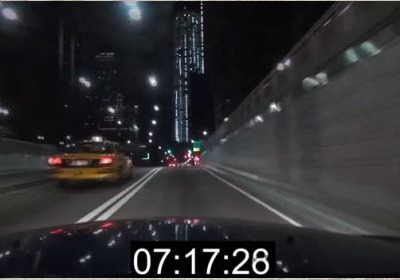 Don't speed. Don't drive recklessly. Don't try to break the unofficial record for a lap of Manhattan. And if you go against this reasonable advice, do not, under any circumstances, record it and post the video on YouTube. If you do, you'll end up like Christopher Adam Tang - under arrest and facing a bevy of charges relating to the video.

Tang posted the video, which showed him lapping Manhattan in 24 minutes last Wednesday, and it quickly went viral. Now Tang, who went by the online moniker AfroDuck, is in cuffs. According to a local CBS affiliate, he was picked up at his home on Wednesday evening by police, who also seized the car used in the video, a 2006 BMW Z4.

What isn't clear is how Tang was caught. His video seems carefully done in that there are no outwardly visible signs that point to him, while the video itself is clearly sped up. While the NYPD hasn't come out and said that Tang was caught due to its extensive surveillance systems around the city, police commissioner Ray Kelly did point out that the new systems "will assist in this type of investigation." Let that serve as a warning to anyone that tries to break the 24-minute barrier. Scroll down to watch the full video.




---
By Brandon Turkus
---
See also: BMW 4 Series Gran Coupe caught without cladding, BMW i8 official images leak ahead of Frankfurt [w/video], The importance of Angel Eyes, Ventiports and four round taillights.