Out With A Bang: Hummer dealer giving away free shotgun with every new vehicle purchase
Mon, 15 Mar 2010 15:58:00 EST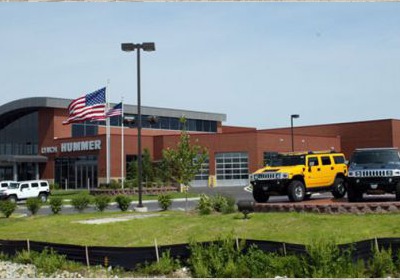 Lynch Hummer dealership in Chesterfield, Missouri – Click above for image gallery

You've heard of art imitating life? Well how about life imitating war? That's another story entirely, but not so far fetched when it comes to the Hummer. The sport-'ute that met the public eye during Operation Desert Storm has all but completely gone through its entire life cycle in the intervening years: first as a military-only vehicle, the original model became available to the public, then GM bought the rights and started churning out pickup-based H2s and H3s, the U.S. armed forces went back Iraq, the original H1 was discontinued and now GM is preparing to wind down the brand entirely. But not before one last pistol-shootin' hoorah, courtesy of the one dealership that arguably sees the truck for what it is more than any other: Lynch Hummer.

The St. Louis-area franchise made headlines last year when they started filling their emptying showroom with gun racks, selling firearms to make up for dwindling sales in the gigantic SUVs. Now the dealership is connecting the dots with a one-of-a-kind promotion: Buy a Hummer, get a free shotgun.

The Browning Citori White Lightning is worth $2,000, and one will be given away with each purchase of a new Hummer. Fortunately, the same legal measures apply to the promotion as they would to anyone buying a new firearm, but if you're looking for a one-stop shop to jump-start your own private militia, Lynch Hummer is clearly the place. Details in the press release after the jump.


Related Gallery

Lynch Hummer dealership in Chesterfield, Missouri

[Source: Lynch Hummer]

Dealer Sending Hummers Off With a Bang!

CHESTERFIELD, Mo., March 12 /PRNewswire/ -- Lynch Hummer (http://www.lynchhummer.com/) is giving away a Browning Citori White Lightning Shotgun with every new Hummer purchased. Lynch Hummer, who first made headlines for "Guns and Hummers" when they added Adventure Shooting Sports (http://www.adventureshootingsports.com/) to their Hummer showroom, has teamed up with Browning to make this offer. The Browning Citori White Lightning is a premium over and under shotgun with a retail value of $2,000. "There is now real reason to believe that the current inventory on hand at dealers may be the last of the new Hummers, we wanted to send them off with something memorable," says Hummer dealer Jim Lynch. "Browning and Hummer are prestigious brands and American Icons - bringing them together is a natural fit."

Lynch Hummer has been recognized in the past for being the highest-volume Hummer dealer and for having the highest customer satisfaction in the nation. Last summer Lynch Hummer added guns to the products they offer in their upscale suburban St. Louis location. "Hummer inventory got so low we had to add another product to make up for lost sales. The guns have been a huge hit with our Hummer customers and now we are taking the 'Guns and Hummers' concept one step further," said Lynch.

Jim Lynch has been a Hummer dealer since 1994: "My hope is that someone will come in and rescue the brand. The right buyer with the right vision could do very well. It will be a real shame if the brand doesn't survive."

Lynch Hummer buyers will be bound by the same legal requirements as any gun purchaser before they will receive their Browning Citori. Offer good while supplies last. Lynch Hummer and Adventure Shooting Sports can be reached on the web (http://www.gunsandhummers.com/) or by phone at 1-800-HUMMER-9.
---
By Noah Joseph