Off-road Cadillac Escalade adds some extra bush country capability
Wed, 26 Jun 2013 17:59:00 EST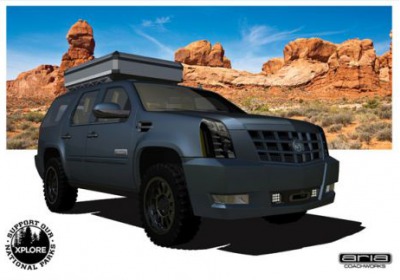 So, you're a dyed-in-the-wool General Motors fan, but like the notion of a machine like the Hennessey Velociraptor. We have good news for you. Behold the Aria Coachworks XPLORE Cadillac Escalade. For a modest fee, Aria will outfit your Escalade with a custom suspension, BF Goodrich all-terrain tires wrapped around aluminum wheels, a Warn winch and a special exhaust. There's even a snorkel option for those of you with aspirations toward deep water crossings. Consider yourself warned, however: unlike other GMT900 SUVs, the Cadillac only has an all-wheel drive system, not the more rugged four-wheel drive setup of the Chevy Tahoe and GMC Yukon). Outside, the luxury SUV gets matte paint, black chrome trim, XPLORE power running boards and a roof rack system.

The interior also receives a few fun changes as well, but we're more interested in the fact that buyers can snag a power roof top tent. You know, in case you need to camp out at Best Buy for the PS4. There's also a matching camp trailer and, our personal favorite, a matching BMW GS motorcycle. Bikes not your bag of tricks? That's fine. Aria will also sell you a matched Airstream trailer or Old Town wooden canoes. As much as we want to hate this, we love the notion of bashing through the woods in a $100,000 Cadillac battlewagon with our GS in tow. Check the press release below for more information.

CADILLAC ESCALADE GOES OFF-ROAD IN STYLE

Aria Group Specialty Coach-Build Division to Build XPLORE Cadillac Escalades

Irvine, CA (June 20, 2013) –Aria Group and XPLORE Great Outdoors are redefining Luxury Off-road with the introduction of the XPLORE Adventure Series Cadillac Escalade.

The Cadillac Escalade stands alone as the pinnacle of full-size American luxury vehicles with power, luxury, technology and style. The XPLORE edition literally opens up new territory for Escalade with serious off-road capability and a new way to experience the outdoor lifestyle.

XPLORE Cadillac Escalades are available in Hybrid and gasoline versions and all are built to order at Aria Coachworks facilities in Southern California. Only a handful will be built each month.
XPLORE Adventure Series Cadillac Escalade highlights include:

• OFF-ROAD CAPABILITY: Each vehicle features custom built suspension packages, massive BF Goodrich all-terrain tires, special finish XPLORE/Method aluminum wheels, Warn winch, Stainless steel polished exhaust system and fender-height aluminum snorkel

• EXTERIOR: Special Matte clear paint in factory colors, black chrome finished trim, XPLORE power running boards, XPLORE roof rack system, powerful LED lighting systems, XPLORE metal and inlaid wood badging

• INTERIOR: Special XPLORE leather and suede seating, XPLORE all-weather floor and cargo mats, XPLORE/Filson luggage, Woolrich car blankets

• ACCESSORIES: XPLORE Power roof-top tent, XPLORE aluminum gear and storage modules, bike racks, awnings, XPLORE Edition Camp trailer, matching XPLORE custom matching BMW GS Adventure motorcycle, XPLORE custom matching Airstream Trailer, Old Town classic wooden canoes, Coleman Camping gear, XPLORE clothing

• OWNERSHIP EXPERIENCE PACKAGES: Each vehicle comes with a family annual pass to our National Parks and Monuments, an Ownership certificate, optional National Park Experience Packages
"The XPLORE Cadillac Escalade delivers much more than an accessorized, meticulously designed and integrated impressive machine" states Ron Flint, Program Director of XPLORE. "This is a transporter of a different sort; one that can deliver you and your family to the outdoors and a life experience that you will talk about for the rest of your life. We support the National Park Foundation with our vehicles and program and can offer unique National Park experiences as part of XPLORE vehicle packages. Back country expeditions at Yosemite, reservations at the Grand Lodges, fly-fishing Yellowstone or primitive site camping on the North Rim of the Grand Canyon can all be arranged. These are just a few of the Parks where your XPLORE Escalade can deliver great outdoor experiences for you and your family."
---
By Zach Bowman
---
See also: Opel director Sedran to succeed Docherty as Chevy Europe boss, Cadillac prices 410-hp XTS Vsport from $63,020*, 2014 Cadillac ELR whirs into Jay Leno's Garage.