Of course, Dubai Police add Bugatti Veyron to fleet
Sat, 18 May 2013 13:05:00 EST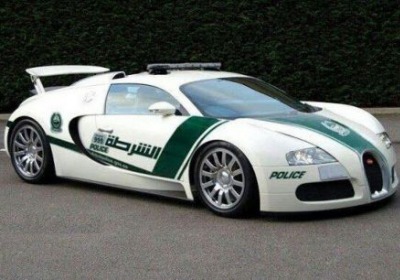 Well, now it's official: Nobody in Dubai is going to be able to outrun the police. You see, in addition to the Aston Martin One-77, Ferrari FF and Lamborghini Aventador that were already part of its stable of police cars, the constabulary in Dubai have most recently procured a Bugatti Veyron to add to the force. And, since the Veyron is the fastest production vehicle in the world, it'd take something truly special to evade the long arm of the law.

The image you see above was tweeted by Dubai's Chief of Police, and as you can see, it's painted up in the green and white hues we've come to expect from its ilk. We do have to wonder, though, if they drilled holes in the Bugatti's roof for the light bar or if it's held on by suction cups or something else less likely to damage the delicate carbon fiber bodywork...
---
By Jeremy Korzeniewski
---
See also: Bugatti Veyron Grand Sport in Fuji Speedway time attack, Guinness reconfirms Bugatti Veyron's world record top speed, Bugatti Veyron Grand Sport Vitesse sets world record for fastest open-top car.