Nissan Juke-R pitted against Bugatti Veyron in brilliantly odd drag race
Mon, 10 Jun 2013 12:30:00 EST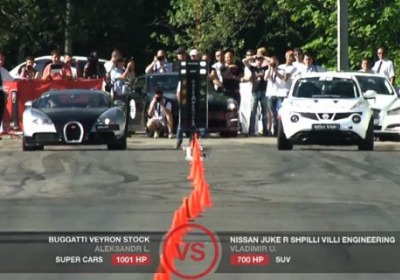 The Nissan Juke-R must've been a tough car to build a business case for, yet the madcap little crossover with the heart of a GT-R is now a production reality. Admittedly, we should probably assign some quotes around "production," since the vehicle is being built on a one-by-one on-demand basis at extraordinary cost – at an estimated price of well over $600,000, it has little in common with the already bonkers everyday Juke. We're just happy it exists at all.

With 545 horsepower, we also didn't figure it needed more power. But that apparently hasn't stopped the tuning community, which probably only had to adapt performance adders designed for the GT-R to the mechanically similar CUV. Thus, we end up with this mile-long drag race, which pits a Bugatti Veyron against a Juke-R prepared by an outfit called Shpilli Villi Engineering with a claimed 700 horsepower. That's still well down on horsepower versus the legendary quad-turbo supercar, but the much smaller Nissan also figures to be a lot lighter while boasting similar all-wheel-drive traction. We don't have much more information to go on other than this video, and it doesn't appear that both drivers necessarily got their best runs in, but it certainly makes for jaw-dropping watching. Check it out by scrolling below.



---
By Chris Paukert
---
See also: Dacia Duster to spawn inexpensive Nissan Terrano, will we get it?, 2013 Nissan Pathfinder: May 2013, Nissan Micra gets fresh new look [w/video].