Next Shelby Mustang to wear GT350 nameplate
Fri, 21 Jun 2013 14:00:00 EST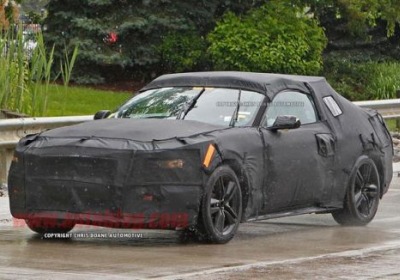 Earlier this month, rumors started to swirl 'round the web about the next-generation Ford SVT Mustang – the halo version of the all-new 2015 'Stang seen testing in the gallery above. Originally, we heard that the Shelby GT500 moniker would be dumped in favor of "a name you're familiar with," which some sources guessed could mean a return of the Cobra nameplate.

That might not be correct. According to Road & Track, citing a report from Mustangs Daily, the new range-topping Mustang will bring back the Shelby GT350 name – currently used on an aftermarket version of Ford's Pony produced by Shelby American (take a look at our recent Quick Spin of that car). Expect the new GT350 to be quite a bit different than the current GT500 – it will be all motor, using a V8 that's derived from the naturally aspirated 5.0-liter Coyote engine (though it will no doubt have a higher displacement). The GT350 will be a lot more powerful than the next Mustang GT, which is expected to offer something like 450 horsepower, but won't be quite as absurd as the 662-horsepower GT500 we currently enjoy.

The Shelby GT350 will reportedly bow with the rest of the new Mustang range at the 2014 New York Auto Show, which coincides exactly with the original Mustang's debut at the New York World's Fair in 1964. If that seems far out, don't worry, we'll be seeing the rest of the 2015 Mustang range before then, but Road & Track reports that the 2014 Detroit Auto Show stage will be reserved for the reveal of the next Ford F-150 pickup.

Ford will offer the Shelby GT350 as a 2016 model, and Mustangs Daily reports that a new Mach 1 Mustang will be coming for that year, as well. For 2015, however, Ford will reportedly offer a 50th Anniversary package for the Mustang GT.

More and more Mustang reports will surely leak out over the coming months, so stay tuned. Have a glance at our most recent spy shots, above, and revisit our gallery of the current Shelby GT500 below to see what big shoes the GT350 will have to fill.
---
By Steven J. Ewing
---
See also: 2015 Ford Mustang spied on video for the first time, BMW V8-powered Ford Model A is the definition of Hot Rod, Project Ugly Horse: Part IX.