Next Nissan Rogue flaunts its new look
Fri, 14 Jun 2013 15:57:00 EST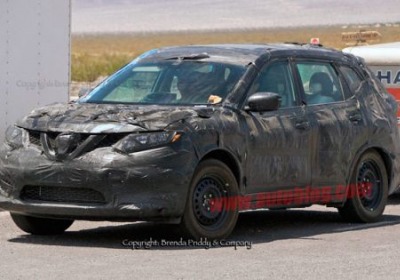 Remember last April, when Nissan told us it would be launching five new models over the course of 15 months? Well, we've seen the Altima, Pathfinder, Sentra and Versa Note, so that magical fifth model has to be the new Rogue, which our spy photographers recently caught testing. Despite looking like a hodge-podge of black duct tape and garbage bags, we can clearly see that the new Rogue takes a lot of its styling cues from the Hi-Cross concept that Nissan showed at the 2012 Geneva Motor Show. And that's fine – we found that CUV concept to be a decidedly handsome thing, and certainly more attractive than the weird little Rogue that currently roams the streets.

Details surrounding the next Rogue are still very unclear, though our spies suggest that it could be powered by a new 1.2-liter supercharged four-cylinder engine, good for something like 113 horsepower and 140 pound-feet of torque. We'll see about that, since those numbers represent a drastic drop in power versus the current Rogue – to the tune of 57 hp and 35 lb-ft. A diesel engine for other markets is expected to be on offer, and a plug-in hybrid version is also rumored to be in the works, though that won't show up at the vehicle's initial launch.

If Nissan sticks to its plan of showing these five new models in the course of 15 months, that means we should see the Rogue in July. Of course, since things don't always go as planned, it could be many more months before all that camouflage is taken away.
---
By Steven J. Ewing
---
See also: 2014 Nissan Versa Note priced from $13,990*, NA auto output to reach 11-year peak, Teen attempts car jump, hits windshield and lands on his feet.