Next Mazdaspeed3 could go naturally aspirated?
Fri, 12 Jul 2013 17:46:00 EST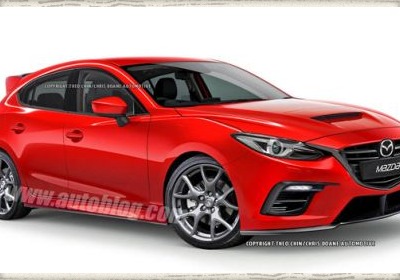 The new Mazda3 is a stunner, both aesthetically and from a driving perspective. As with all good things, though, there's always room for improvement. That's where the wizards from Mazdaspeed come in. Mazda's in-house tuner has been tweaking and turbocharging the five-door Mazda3 since 2007, with impressive results.

We've shown you renderings of what the third-generation Mazdaspeed3 could look like, and for the most part your response was quite positive. Now, AutoExpress has come out with details of just what might be under that long hood. According to our friends across the pond, the new Mazda3 MPS (that's what the Speed3 is called in Her Majesty's auto industry) will be arriving with a new, high-revving, naturally aspirated engine. Wait, what?

Yes, if the rumors are to be believed, the next Mazdaspeed3 will ditch its turbocharger. According to an anonymous engineer, the new MS3 will arrive in December (this is for the UK market, mind you) with a 200-horsepower, naturally aspirated engine. The 2.0-liter mill is based on the Skyactiv engine in the new 3, and should be capable of a sub-seven-second run to 62 miles per hour.

Now, we strongly encourage you to take these rumors with a grain of salt. There are a lot of things that don't add up here. With 200 horsepower, the new Speed3 would be down over 50 horsepower on the original model. It'd also be easily outgunned by the competition from Ford, Subaru, and Volkswagen. And what about torque? The only way we can see a 200-horsepower Mazdaspeed3 working is if it weight is dramatically reduced. Considering weight savings is a tenet of Mazda's Skyactiv philosophy, that seems like a possibility.

We're still a long way from the new Mazdaspeed3's debut, and a lot can change between now and then. What do you think - does a Mazdaspeed3 work without a turbo? Would you buy one with the more powerful alternatives available? Let us know in the comments.
---
By Brandon Turkus
---
See also: 2014 Mazda3, 2014 Mazda3 2.0L Hatchback officially rated at 40 mpg highway, More photos of the 2014 Mazda3 sedan.