Next Mazda MX-5 Miata to weigh a ton(ne), literally
Wed, 27 Nov 2013 10:31:00 EST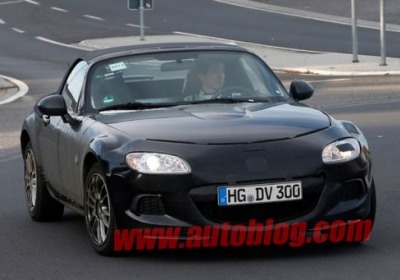 Looking at recent spy shots of the fourth-generation Mazda Miata, it's obvious this sporty little roadster will grow in size compared to the current model, but it's also going on a diet. At the Tokyo Motor Show, Auto Motor und Sport sat down with Mazda executive Kiyoshi Fujiwara, who gave a little more insight into the Miata's redesign.

Fujiwara said that they're aiming for a curb weight of a tonne (metric ton), which is 1,000 kilograms or right around 2,200 pounds, for the next-generation Miata. This would make the roadster at least 300 pounds lighter than the current NC Miata, but still about 200 pounds heavier than the original NA.

There is no indication as to how Mazda will go about removing that much weight from the bigger car, but with as popular as the power retractable hard top (PHRT) model is on the current car, the new Miata may ditch this feature to lose its weight. Improving the power-to-weight ratio appears to be a key goal of the Mazda team, so we also wouldn't be surprised to see a more powerful engine underneath the longer hood.
---
By Jeffrey N. Ross
---
See also: Next-gen Mazda2 designed for 'predominantly feminine' appeal, Mazda3 Skyactiv-Hybrid and CNG Concept shown in Japan, Mazda CEO says rotary not viable, so don't look for a new one.