Next Mazda MX-5 Miata headed for 2015 Chicago debut
Fri, 17 Jan 2014 15:45:00 EST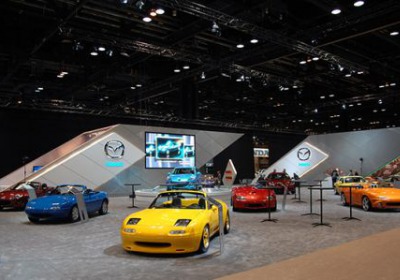 Twenty-six years after it was introduced at the 1989 Chicago Auto Show, the much anticipated fourth generation Mazda MX-5 Miata will meet the press at the 2015 Chicago show. A piece in Autocar refines some of the details on the larger, lighter Miata that a Mazda insider has said will be "our best-looking car ever."

The company has relented on the quest for the metric tonne, the 1000-kilogram (2,200-pound) target too difficult to achieve in light of cost constraints. You can still expect it to lose a generous dollop of weight - Autocar says a curb weight of 1,100 kg (2,420 pounds) will still make it the lightest in its class. And Mazda will be stressing a fun driving experience through light weight and a modest amount of naturally-aspirated horsepower. Engine capacities of 1.5 and 2.0 liters are expected. Sounds familiar (and good), right?

The Miata's interpretation of Kodo design will be veer from that found on the Mazda3 and Mazda6, with "very clean and simple" lines marking out "more muscular proportions" and elongated bodywork on a longer wheelbase. A stretched engine bay will make room for the current Skyactiv engine and perhaps the future Skyactiv 2 powerplants, initial reports suggesting there could be a 30-percent increase in fuel economy from the moment it arrives.

Two flavors of top-down operation will continue, those being the soft- and folding metal hardtop. That next iteration of the hardtop will lose weight and take up less space, making for a bigger bit of space in the trunk. The next Miata will go on sale in 2015, supposedly joined at some point by the Alfa Romeo brother it will share a platform with.
---
By Jonathon Ramsey
---
See also: 2014 Mazda Skyactiv Prototype looks ready for Daytona, Road & Track to take Miata on million-mile march, Mazda delays US launch of Skyactiv-D engine.