Never-was Jaguar C-X75 hybrid supercar driven by Autocar
Mon, 24 Jun 2013 12:45:00 EST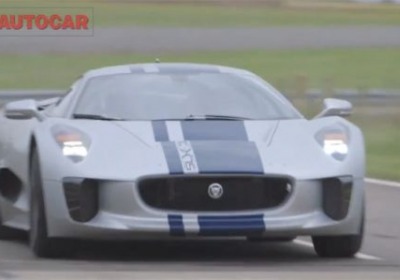 There's lucky, and then there's "I got to drive the Jaguar C-X75." The crew from Autocar is among the handful of souls who can honestly make the latter statement. Jaguar invited the publication down for a little time in both the passenger and driver seats around the automaker's proving grounds. While there's no end to the jealousy oozing from our pores, the good news is that there were a few cameras on hand to capture the experience. As you may recollect, the C-X75 Concept was a unique hybrid supercar concept built to duke it out with the likes of the Ferrari LaFerrari, Porsche 918 and the McLaren P1. The British automaker put it on track for production, but unfortunately stopped the project about six months ago.

With a twincharged 1.6-liter four-cylinder engine capable of revving to 10,000 rpm, the C-X75 concept yields 502 horsepower and gets partnered with four electric motors – one at each wheels. A 19kWh lithium-ion battery pack serves up 300kW of power, and combined, the motors and battery are capable of yielding an additional 194 horsepower and 295 pound-feet of torque. Combined, the driveline is good for more than 850 horsepower and 738 pound-feet of torque. Said another way, the C-X75 will do the 0-60 miles per hour dance in under three seconds.

And Autocar got to drive it. You can watch the video for yourself by scrolling below.



---
By Zach Bowman
---
See also: Jaguar working on 700-hp, 200-mph hybrid F-Type?, Jaguar F-Type squares off against Porsche 911, Aston V8 Vantage with Chris Harris, Jaguar F-Type Coupe proves sexy can't be disguised.