NA auto output to reach 11-year peak
Thu, 13 Jun 2013 08:00:00 EST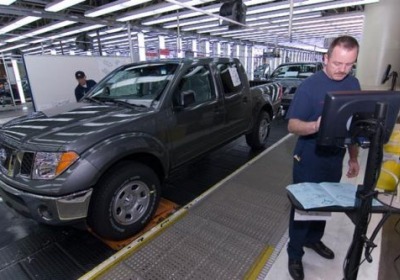 According to Automotive News, automakers are expected to manufacture 16 million light vehicles in North America in 2013. That's up 500,000 units from last year and marks the largest number since 2002. The prediction comes courtesy of LMC Automotive and IHS Automotive, which point to the improving US economy as a bellwether for total production. LMC Automotive says North America will produce 16 million vehicles while IHS has a slightly more optimistic forecast of 16.1 million units. A total of seven automakers are slated to increase production on the continent this year. Nissan is set to see the largest jump at 20 percent over last year.

Volkswagen, meanwhile, is one of the only manufacturers predicted to scale back production. Analysts expect the German company's output to fall by 23 percent to 170,000 units, thanks in part to slow demand for the Volkswagen Passat and Jetta.
---
By Zach Bowman
---
See also: Teen attempts car jump, hits windshield and lands on his feet, Nissan Juke-R pitted against Bugatti Veyron in brilliantly odd drag race, Dacia Duster to spawn inexpensive Nissan Terrano, will we get it?.