MyFord Touch getting buttons and knobs back to counter criticisms
Mon, 17 Jun 2013 13:28:00 EST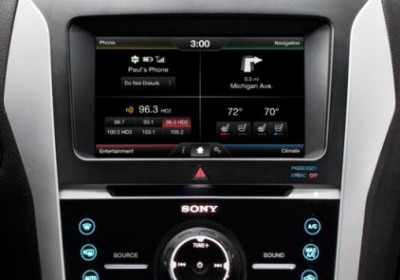 Ford deserves credit for being a front-runner in offering advanced infotainment technology with its Sync and MyFord Touch systems, but continued consumer complaints over its confusing touchscreen interface and capacitive controls has made the automaker relent. The Wall Street Journal reports that physical buttons and knobs for controlling tuning and volume will be coming back to Ford vehicles equipped with the controversial infotainment system.

The 2013 F-150 with MyFord Touch gives us a glimpse of what the new layout with buttons and knobs might look like, as Ford says a similar balance of touch screen capability and buttons/knobs are what's being planned for future models. And, while capacitive controls have no fans in the halls of Autoblog, many of Ford's models with MyFord Touch do have a large physical knob for adjusting volume with integrated buttons for tuning and advancing tracks, though most of those are models with the optional upgraded Sony Audio system. Lincoln models with MyLincoln Touch, however, feature only capacitive controls for all stereo and climate functions.

Despite receiving enough complaints to throw buttons and knobs back into the mix (a move that reminds us of BMW's iDrive trajectory, among others), Ford reports that Sync and MyFord Touch have still been sold on 79 percent of its 2013 model year vehicles, a number it claims is double the rate that Honda and Toyota are getting for their infotainment systems. Ford also states that owners who do opt for the duo of technologies are more satisfied with overall vehicle quality than those who don't have it.

While Ford's own numbers may show high rates of satisfaction, other surveys, specifically the J.D. Power & Associates Initial Quality Study, have taken a hit in recent years on account of new owners reacting to MyFord Touch and its buttonless capacitive controls. Ford's ranking in the IQS plummeted to below average in 2011 after the system's debut, which prompted a significant update for MyFord Touch the following year that fixed bugs, improved the user interface and improved the voice recognition. Nevertheless, Ford still ranked below average in the 2012 IQS survey, and today's news of physical buttons and knobs returning to the center stack comes just two days before the release of results for J.D. Power's 2013 IQS. Another system update will be released the summer, and Ford has increased warranties for all models equipped with the system.

SYNC and MyFord Touch Sold on 79 Percent of New Ford Vehicles, New Technology Drives Quality Satisfaction

SYNC® and MyFord Touch® sold on nearly 80 percent of 2013 Ford vehicles, double the sales mix of infotainment systems sold with Toyota and Honda vehicles, and up from 68 percent in 2012; MyFord Touch mix of 55 percent increased from 12 percent in 2012

Customers with vehicles equipped with MyFord Touch have a higher rate of satisfaction with overall vehicle quality for most models compared to those that do not have the advanced infotainment system

Ford customers cite voice command and touch screen features as top purchase drivers much more often than competitors; Ford Escape owners prioritize them twice as much as the segment average

Ford improves MyFord Touch quality by more than 50 percent since launch, plans another upgrade in summer 2013

DEARBORN, Mich., June 17, 2013 – Ford SYNC® voice-controlled connectivity and MyFord Touch® touch screen technologies are attracting more customers and selling at a much higher rate than competitors, as MyFord Touch helps drive higher customer satisfaction with vehicle quality.

Combined, SYNC and MyFord Touch are sold on 79 percent of new 2013 Ford vehicles, double the rate of Toyota and Honda vehicle infotainment systems and up from 68 percent in 2012. This includes a MyFord Touch mix of 55 percent from 12 percent in 2012.

SYNC and MyFord Touch connectivity technologies – launched in 2007 and 2010, respectively – remain a competitive advantage as customers cite voice control and touch screens as top purchase drivers much more often than competitors. For example, 53 percent of 2013 Ford Escape owners say the touch screen is a top purchase reason compared to a 22 percent segment average.

"Ford has launched 60 new technologies the past few years and they are helping attract many new customers in important markets such as the coasts," says Raj Nair, group vice president, global product development. "SYNC and MyFord Touch are key parts of our innovation strategy, and not only bring more new customers to our brand, but help deliver higher satisfaction with overall vehicle quality."

Ford vehicles with MyFord Touch are helping improve perceptions as customers who own vehicles with the system are more satisfied with overall vehicle quality compared to those who don't have the technology. The Ford F-150 with MyFord Touch has the highest rate of quality satisfaction across the Ford lineup, at 86 percent.

F-150 blends touch screen capability with traditional buttons and knobs, a similar balance planned for future Ford vehicles.

Young buyer connections
The innovations also are attracting younger buyers. For example, the new 2014 Ford Fiesta will now offer MyFord Touch, adding to other features such as a navigation system, rear camera, leather seats and a sunroof not available in the segment.

Fiesta already is drawing a younger audience of 46 percent Gen Y and Gen X buyers, compared to Toyota and Scion's 36 percent subcompact average. Fiesta innovations are differentiating the car as SYNC is cited as an important purchase reason by 54 percent of buyers compared to a 37 percent average for Toyota's connectivity technology.

Quality progress
Ford continues to refine SYNC and MyFord Touch, including another downloadable upgrade planned for this summer. Previous upgrades already have helped improve quality responses by more than 50 percent.

"We are committed to listening to our customers and improving MyFord Touch to keep drawing in new customers and increasing satisfaction with even higher quality," says Nair.

Ford's dealership personnel and dedicated connectivity customer service line also have become competitive advantages in an era of new automotive technologies. Customers who seek dealership assistance with SYNC or MyFord Touch report a 91 percent satisfaction rate.
---
By John Neff
---
See also: Ford using robot drivers to test durability [w/video], Ford Fusion demand outstripping supply, 2013 Hennessey VelociRaptor 600 SUV.