Mopar Muscle is Monster Jam's first OEM monster truck in over a decade
Fri, 10 Jan 2014 00:01:00 EST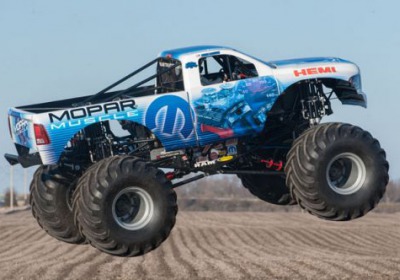 New monster trucks seem to join the Monster Jam circuit every year, but it's not often that one gets the official blessing of an automaker. That's about to change, however, as Chrysler's truck division has teamed up once again with Hall Brothers Racing – which already fields the championship-winning Raminator and Rammunition trucks – to field the series' first new Original Equipment Manufacturer monster truck in over a decade.

Dubbed Mopar Muscle, the new Ram monster truck will debut at the Monster Jam in Detroit on Saturday at Ford Field, at the first of six such events in which Mike Miller (who, incidentally, named his son Hemi) will drive the truck throughout the year.

Here's what you need to know: Based on a 2014 Ram HD pickup (or at least made to look like one), Mopar Muscle stands 10 feet tall and weighs over 10,000 pounds, and it's powered by the legendary Gen II 426 Hemi that celebrates its 50th anniversary this year. But instead of leaving the massive 7.0-liter engine as is, Hall Brothers Racing enlarged it to 565 cubic inches – a mind-boggling 9.3 liters – and supercharged it to 2,000 horsepower. That's a whole lot of muscle no matter what it's packed into. Check it out in our high-res image gallery above. You can also check out the full schedule of events in the press release below to see if the truck is coming to your area this year.

Mopar Introduces 'Mopar Muscle': First New Monster Truck in More Than a Decade
Mopar Joins Hall Brothers Racing's Ram Truck Lineup for Monster Jam

- Mopar joins the championship Ram monster truck lineup with Hall Brothers Racing in 2014
- 'Mopar Muscle' monster truck to be unveiled at the Monster Jam event Jan. 11 in Detroit
- Mopar-sponsored machine is the first new Monster Truck introduced in more than a decade
- Mopar Muscle will sport a new logo celebrating the 50th anniversary of the Gen II 426 HEMI®
- Mike Miller to drive Mopar Muscle in six Monster Jam® events; has a son named Hemi

January 10, 2014 , Auburn Hills, Mich. - Mopar, Chrysler Group LLC's service, parts and customer-care brand, will be taking to the Monster Truck Racing Series arena with the new "Mopar Muscle" Ram monster truck beginning with the Monster Jam event in Detroit on Jan. 11.

The Mopar-sponsored machine joins the Hall Brothers Racing's championship winning trucks "Raminator" and "Rammunition" for six Monster Jam events in 2014. The Ram Truck brand has proudly sponsored the team since 2002.

"We're excited to have Mopar make its first foray into the world of monster trucks by joining the Ram brand in this popular and competitive exhibition series with a such a passionate and loyal following," said Pietro Gorlier, President and CEO - Mopar, Chrysler Group's service, parts and customer-care brand. "So much of what Mopar does is applicable to the general consumer, but occasionally we like to show just how capable our brand is of really extreme performance. This is a great and fun opportunity for us to do that with Mopar Muscle and the Hall Brothers."

Mopar Muscle is the first Original Equipment Manufacturer (OEM) monster truck to be introduced into the Monster Jam series in more than a decade. Monster Jam is the premier monster truck racing event series, with a 14-race schedule that features traditional bracket racing and a freestyle competition.

Standing an imposing 10 feet high and weighing 10,300 pounds, Mopar's 2000-horsepower monster truck is based on a 2014 Ram Heavy Duty truck. It is powered by a 565 cubic inch supercharged version of the iconic Gen II 426 HEMI® engine, which is celebrating its 50th anniversary in 2014. Mopar Muscle will sport a special orange 50th anniversary HEMI logo, launching a year-long tribute by Mopar to commemorate the introduction of the engine that has since seen much success and strongly impacted both the motorsport and automotive industries.

"We are very proud of our new Mopar Muscle Ram monster truck," said Tim Hall owner and crew chief for the Champaign, Ill.-based team. "It looks really fantastic, and I can't wait to see it run. Mopar has a long and storied history of winning across many forms of racing, so we intend on helping to make their entry into monster truck racing just as successful."

Hall Brothers Racing is no stranger to success. Driver Mark Hall has garnered eight "Driver of the Year" honors at the helm of Raminator, which is the 2013 winner of the coveted "Truck of the Year" award, claiming its seventh title since 2002. Along with Rammunition, driven by Mat Dishman, the team boasts a total of 20 season point championships.

Hoping to contribute to that success, Mike Miller will take the wheel of Mopar Muscle for the six events it will participate in this season.

"The Mopar Muscle Ram is a fantastic ride, and I am really looking forward to competing with it," said Miller who has been with the team since 2011. "The iconic HEMI engine has won a lot of races across many categories in motorsports, and I intend to add to that list.

"On a personal level, not only have I been passionate about monster trucks since my childhood, but I am really honored to fly the Mopar banner. If you need any indication of how much I love the brand, my own son is named Hemi."

Partnering with the Hall Brothers and extending Mopar's reach into monster trucks felt like a perfect fit to Tricia Hecker, Marketing Director - Mopar, who sees the benefits of participating in a series that appeals to an audience with similar passion and core values as the brand.

"It wasn't just the display of power and performance that made this a good fit for Mopar, but the environment is just so family-oriented," said Hecker, who brings her own sons to Monster truck events. "With such a strong youth following, we see this as a fantastic way to have a new generation of fans grow up with the Mopar name."

In anticipation of the Mopar Muscle's first appearance on track, fans will be able to get their first close-up look at the new truck during Monster Jam's "Party in the Pits" from 2:00-5:00 p.m. ET, Jan. 11 at Ford Field. The $10 pre-show experience gives aficionados access to the racetrack, the opportunity to meet Hall Brothers Racing drivers Mike Miller and Mark Hall, collect autographs, take photos, and explore the obstacles competitors jump over and eventually destroy.

Mopar Muscle will compete at the following events during the 2014 season:
• January 11 – Monster Jam in Detroit, Mich.
• February 22 – Monster Jam in Arlington, Texas
• May 16-18 – 4 Wheel Jamboree in Lima, Ohio
• June 21-22 – 4 Wheel Jamboree in Springfield, Mo.
• July 11-13 – 4 Wheel Jamboree in Bloomsburg, Pa.
• September 19-21 – 4 Wheel Jamboree in Indianapolis, Ind.

For Mopar and Ram Truck fans who can't make it to Monster Jam® events in person, FOX Sports 1 and FOX Sports 2 will begin telecasting the competition this January. Check local listings for broadcast times.

About Ram Truck
Brand The Ram Truck brand continues to establish its own identity and clearly define its customer since its launch as a standalone vehicle brand. Creating a distinct brand for Ram trucks has allowed the brand to concentrate on how core customers use their trucks and what new features they'd like to see. Whether focusing on a family that uses its half-ton truck day in and day out, a hard-working Ram Heavy Duty owner or a business that depends on its commercial vehicles every day, Ram has the truck market covered.

The Ram Truck brand has the most innovative lineup of full-size trucks on the market. Ram Truck has emerged as a full-size truck leader by investing substantially in new products, infusing them with great looks, refined interiors, durable engines and features that further enhance their capabilities. Truck customers, from half-ton to commercial, have a demanding range of needs and require their vehicles to provide high levels of capability. Ram trucks are designed to deliver a total package.
---
By Noah Joseph
---
See also: Ram 1500 Mossy Oak Edition ready to hit the woods, Chrysler recalls AWD 300, Charger, Ram 1500 over ZF transmission, Ward's Automotive Ten Best Engines of 2014 dominated by diesels, turbos.