Mitsubishi previews new Attrage global sedan
Tue, 21 May 2013 18:01:00 EST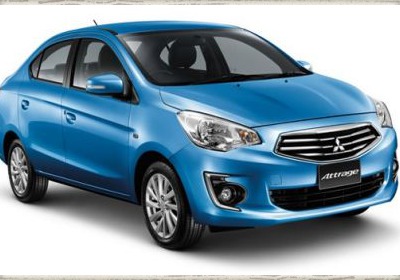 It's been about a month since we first saw the Mitsubishi Concept G4 at the Shanghai Motor Show, but now the automaker has revealed the first images for the sedan in production trim. Wearing the Mitsubishi Attrage nameplate, this sedan will go on sale this summer in Thailand and could eventually makes its way to the US. Despite being essentially a sedan version of its subcompact Mirage, Mitsubishi refers to the Attrage as its next-generation global compact sedan, suggesting it's a fair bit larger than its hatchback counterpart.

We only have this single image to go on, but the new Attrage obviously has the same overall look as the Concept G4. As expected, it does lose some of the more conceptual bits, including the fancy headlights, grills and wheels. While the styling has us thinking back to the late 1990s, the true advantage of the Attrage is likely to be its fuel consumption. US fuel economy for the Attrage hasn't been released, but the closely related 2014 Mirage is expected to return 37 miles per gallon in the city and 44 mpg on the highway using the same 1.2-liter inline four-cylinder engine paired with either a five-speed manual or a continuously variable transmission. Scroll down for the brief press release for the Thai-built Attrage.

Mitsubishi Motors Next-generation Global Compact Sedan to Be Launched in Thailand in July

Charming next-generation global sedan to be named Attrage
Bangkok, May 21, 2013 - Mitsubishi Motors Corporation announced that its next-generation global compact sedan, to be named Attrage*1, will be launched in the Thai market this July. The Attrage qualifies for the Thai government's Eco-car Project*2 and will be produced at MMC subsidiary Mitsubishi Motors (Thailand) Co. Ltd.'s third factory at the Laem Chabang Industrial Estate in Chonburi province in Thailand.
*1:

Contrived based on the English attractive
*2:

Qualifications: fuel efficiency based on European calculation methods of at least 5L/100KM (20km/L) , meet EURO4 exhaust gas regulations, invest over THB5 billion into production in Thailand, and produce over 100,000 units per year after the fifth year of production.

Main Features
The Attrage will bring styling befitting a next-generation global compact sedan, featuring

a short nose which delivers an outstanding forward field of view
superior maneuverability with a class-leading minimum turning radius of 4.8 meters
graceful and flowing side proportions which balance aerodynamics and interior space among the most generous in its class
sleek aerodynamics, with a dynamic character line which kicks up towards the rear.


The Attrage is expected to achieve a fuel efficiency of 22 km/liter*3, among the best in its class, achieved with a combination of uncompromising weight reduction throughout and

A lightweight RISE (Reinforced Impact Safety Evolution) body - the lightest in its class due to the extensive use of high-tensile steel
A lightweight and compact 1.2-liter MIVEC engine
CVT with sub-geartrain or 5-speed manual
Excellent aerodynamics providing a drag coefficient (CD) of 0.29, among the best in its class.


*3:

Calculated based on NEDC (New European Driving Cycle)

The Attrage delivers driving pleasure thanks to agility and pleasing driving dynamics stemming from its lighter weight as well as its reassuring handling, stability and comfortable ride. Passenger comfort is enhanced by the high hip point and large door openings which facilitate entry and exit as well as by its generous rear seat leg space.
---
By Jeffrey N. Ross
---
See also: Mitsubishi confirms pair of MiEV Evolution II electric racecars for Pikes Peak, Mitsubishi subcompact sedan coming to US in 2015?, Mitsubishi Evo snow frolic caught by aerial camera.