Mitsubishi Fuso targets female truckers with pink polka dot Canter
Fri, 22 Nov 2013 16:31:00 EST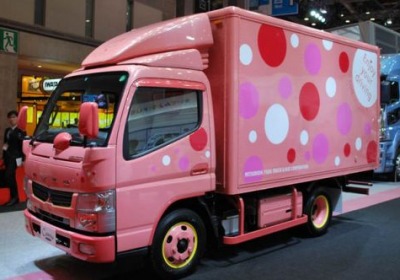 We take it for granted that women can enter just about any career they want now. But there are still countless occupations where females are underrepresented. You don't see too many women truckers, for example – particularly in a country that's still as deeply traditional as Japan. But Mitsubishi Fuso is showing just how forward thinking – and simultaneously, how traditional (pink polka dots are a bit 'on the nose') it can be with this hybrid pink truck.

Now for those unfamiliar, the Mitsubishi Fuso Truck and Bus Corporation has nothing to do with Mitsubishi the car company these days. Instead, it's owned by Daimler, which we know best as the parent company of Mercedes-Benz. Yet Daimler also owns a number of truck and bus manufacturers – among them Freightliner, Thomas Built and Mitsubishi Fuso. One of latter's most popular products is the Canter, the model seen here coated in the shade of Pepto pink at the Tokyo Motor Show.

The point? To make truck driving more attractive to women, of course! We're not sure it'll catch on, but apart from the color scheme – which extends, incidentally, from the cab to the box and inside the cabin – this particular Canter (which Fuso has dubbed Canna) features a hybrid powertrain that produces 130 horsepower and 221 pound-feet of torque, paired to a 7.5Ah lithium-ion battery good for 270 volts. The whole package weighs 6,250 pounds and can carry three Japanese school girls dressed up as Sailor Moon in the front and plenty of Hello Kitty merchandise in the back.
---
By Noah Joseph
---
See also: Mitsubishi Evo successor on hold?, Mitsubishi AR Concept continues a wacky, wonderful tradition [w/video], Mitsubishi Concept GC-PHEV could hint at next-gen Montero [w/video].