Missouri Mercedes dealer offering free Smart with every SLS AMG purchase
Wed, 05 Dec 2012 11:30:00 EST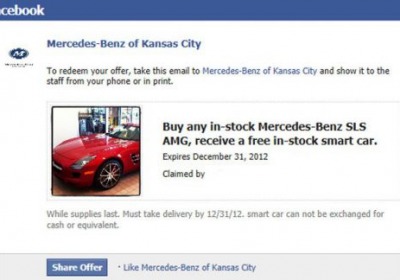 The Mercedes-Benz SLS AMG GT is an exquisite sports car that probably needs no help flying off dealer lots, even with a starting price of almost $200,000, but Mercedes-Benz of Kansas City has come up with an interesting incentive to sweeten the deal. For buyers who purchase a new SLS AMG from dealer stock before the end of the year, the dealership is throwing in a new Smart Fortwo from its inventory at no charge... with a required coupon no less.

In addition to being a great tactic to get a little free press, the spare car also makes sense as an alternative to the SLS, which measures more than 15-feet long - almost twice the length of a Fortwo - and has a 563-horsepower engine that sucks down gas at the rate of 13 miles per gallon in city driving (and even that's provided you don't give in to the devil on your shoulder). Plus, at the end of the day, this really isn't that big of an incentive. Being given a slow-selling $12,490 car for the purchase of a model starting at $199,500 represents about a six percent incentive, which is along the lines of a $1,900 rebate for a $30,000 car.

To get the free Smart, just visit the Mercedes-Benz of Kansas City Facebook page, redeem the coupon and then go buy yourself a new SLS AMG. Congratulations!
---
By Jeffrey N. Ross
---
See also: Fashion designer Jeremy Scott gives Smart Fortwo Electric some wing bling [w/video], EVO "2012 Car of the Year: The Track Battles" is a sports car salmagundi, Popular Science magazine's Best Of What's New 2012 all ate up with cars.