Mini lineup could expand to include up to 10 models, still no hope for Rocketman
Tue, 12 Feb 2013 13:31:00 EST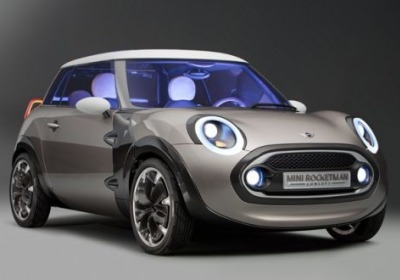 During an event in Ponce, Puerto Rico last week where Mini introduced members of the media to the 2013 Paceman and John Cooper Works GP, product planners discussed that the brand's lineup could expand to eventually include up to 10 bodystyles. Currently, the Mini range consists of seven models: the Hardtop, Clubman, Convertible, Countryman, Coupe, Roadster and Paceman.

Speaking to members of the media, David Duncan, Mini USA sales manager, said that these new models could fall into a range of niches – "any segment that makes sense for a small car." No specific vehicle classes were discussed, but Duncan stated that the possibilities are endless, "as long as we're the smallest player in any segment."

Well, nearly endless. We've been hoping that Mini would re-think its decision to nix plans to create a vehicle smaller than the Hardtop – a notion previewed by the excellent Rocketman concept (shown above) from the 2011 Geneva Motor Show – but the automaker once again stated that this is absolutely off the table. In order to create a vehicle of the Rocketman's size, a completely new platform would have to be engineered (that's expensive), and while Mini has looked into acquiring existing architecture from another brand, parent company BMW has reportedly put the kibosh on such an act. If a Rocketman is ever to be born, BMW/Mini will do it on its own, and right now, that simply isn't in the cards.

Patrick McKenna, head of Mini USA's product strategy, also told us that while he's "not going to confirm it," diesel power is indeed being investigated for use in the next-generation Mini range in the States. Yes, we've heard this before, but every time it's said, it sounds more sincere.

So, where does Mini go from here? Your guess is as good as ours. The product team tells Autoblog that one of the main reasons for people to turn away from the range-topping Countryman is that it's too small, so you could realistically argue for a larger version of this vehicle, despite the fact that we've been told before that the Countryman would be the largest Mini is willing to go. You could certainly make the argument for something relatively low-cost like a convertible version of the Paceman, or even a clever little pickup based on the all-wheel-drive Countryman platform. Give us your best ideas, in Comments.
---
By Steven J. Ewing
---
See also: Mini apologizes with chocolate rose after spamming customer's inbox, Mini Clubman Bond Street inspired by London shopping, Mini John Cooper Works Paceman is a potent little hot hatch in a fat suit.