Mercedes, Infiniti, Lexus rank tops with mystery shoppers
Thu, 11 Jul 2013 08:44:00 EST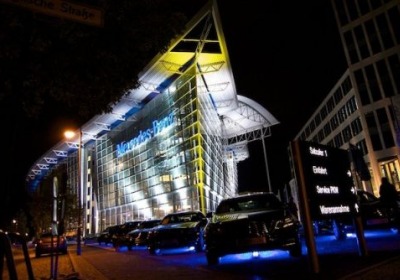 If you want the best experience possible when buying a new car, then you'd better head down to your local Mercedes-Benz, Infiniti, or Lexus showroom. According a mystery shopper study conducted by the Pied Piper Prospect Satisfaction Index, those three luxury brands ranked highest among the 33 makes surveyed. The highest scoring mainstream brands included GMC, Hyundai, Kia, and Ford.

The study asked 5,203 mystery shoppers about the tactics used by salespeople during their most recent automotive purchases, and found a few interesting parallels along the way. For example, dealers at Infiniti, Land Rover, and Smart leaned heavily on vehicle walk-arounds with potential customers, while Jaguar, Volvo, and Audi were quick to point out exclusive features.

This study contrasts with a similar study conducted by JD Power in 2012. Its Sales Satisfaction Survey listed Mini as the top scorer, while Pied Piper's mystery shoppers ranked the BMW-owned brand below the industry average. Lexus scored highly on both surveys, as did Infiniti and GMC.

Not all brands fared well with the mystery shoppers. Lincoln, Chrysler, Mazda, Mitsubishi, and Scion all finished well below the industry average. According to an analysis on Automotive News, the lower scoring brands suffered from a lack of product and dealers that would push potential customers away from their desired brands. Scroll down for the official press release.

MERCEDES-BENZ, INFINITI AND LEXUS DEALERS RANKED HIGHEST BY 2013 PIED PIPER PSI(R)

July 2013
MONTEREY, CALIFORNIA – July 8, 2013 – Mercedes-Benz dealerships ranked highest in the newly released 2013 Pied Piper Prospect Satisfaction Index(R) (PSI(R)) U.S. Auto Industry Benchmarking Study, which measured dealership treatment of car-shoppers. Study rankings by brand were determined by the patent-pending Pied Piper PSI process, which ties "mystery shopping" measurement and scoring to industry sales success. Infiniti and Lexus dealerships, the luxury brands from Nissan and Toyota respectively, finished ranked second and third.

Nineteen of the thirty-three different brands led at least one PSI sales process category, and performance varied by brand within each category. For example, Jaguar, Volvo and Audi salespeople were most likely to discuss features unique from the competition. Infiniti, Land Rover and smart salespeople were most likely to conduct a vehicle "walk-around" demonstration. Kia, Fiat and Hyundai salespeople were most likely to give compelling reasons to buy now.

Industry average dealership performance was mixed when comparing 2013 with the previous year.

Salesperson behaviors more likely in 2013 than 2012 include the following:
• Mentioning the availability of different finance or lease options (now 67% of the time)
• Asking about factors preventing purchase (now 71% of the time)
• Asking if the prospect has a trade-in (now 83% of the time)

Salesperson behaviors less likely in 2013 than 2012 include the following:
• Offering a brochure (now 52% of the time)
• Discussing features unique from the competition (now 55% of the time)
• Involving prospect with visual aids (now 38% of the time)

2013 marks the seventh consecutive year of Pied Piper PSI auto industry benchmarking studies. With seven years of data gathered from tens of thousands of auto PSI evaluations nationwide, Pied Piper was able to fine-tune the study questions, weightings and scoring for 2013. As a result, Pied Piper reset the 2013 auto industry average PSI score to "100."

The resulting "second generation" PSI scoring is now even more closely correlated to auto dealership sales success. Pied Piper has found that on average, when auto dealerships are ranked by their PSI score, dealerships in the top quarter sell 16% more vehicles than the dealerships in the bottom quarter. "Any dealership faces plenty of challenges that are difficult, if not impossible, to change, such as product-line sold or dealership location," said Fran O'Hagan, President and CEO of Pied Piper Management Company LLC. "In contrast, how a sales team sells is something a dealership can improve immediately."
---
By Brandon Turkus
---
See also: Lexus boots up 2014 IS configurator, Autoblog Podcast #339, Toyota to enter modern turbo four-cylinder era with Lexus crossover.