Mercedes-Benz S-Class presentation leaked, debuting in May
Fri, 22 Feb 2013 16:58:00 EST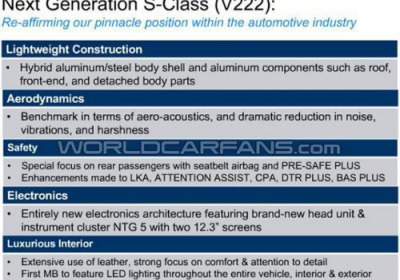 WorldCarFans was reportedly sent what looks like a dealer presentation on the coming V222 series 2014 Mercedes-Benz S-Class. There have been hints for years as to the kinds of technology the world's best-selling large luxury sedan will contain, and it appears those hints had some foundation. To be shown in Germany on May 15 before a launch window that runs from September to November this year, the evolutionary design will be built of aluminum and steel, using that lighter material for the front end, roof and "detached body parts."

Among the new options buyers will be able to choose are the Rear Seat Package with rear seatbelt airbags and active buckles that extend, a Warmth and Comfort Package with heated seats front and back, heated armrests and side panels, and power rear seats with active ventilation and memory function. There's a chauffeur seating option that comes with 10-way adjustable rear seats, an extendable footrest and folding tables in the front seatbacks.

Blatant technology will be on display via two 12.3-inch screens, one for the dash cluster and one for the COMAND infotainment screen on the instrument panel. The third generation of Nightview Assist Plus will be able to detect animals as well as humans, and the next generation of Surround View will provide high-res views all around the car. A touchpad and a color head-up display will arrive in 2015. It will be the first Mercedes-Benz to utilize LED lighting everywhere, inside and outside the car.

Other premium touches will be available Hot Stone Massage seats with seven massaging programs, a Burmester Reference sound system and an Air Balance Package that filters, and ionizes cabin air and can emit a fragrance through the HVAC system. The S550 will come first, in September, followed by the S550 4Matic and S63 AMG over the next two months. Have a look at the slides in the gallery, it looks like the coming S is going to be a lot of car.
---
By Jonathon Ramsey
---
See also: 2013 Mercedes-Benz SL65 AMG, 2014 Mercedes-Benz E63 AMG S 4Matic [w/video], Mercedes says it's tops in luxury sales for 2012, not BMW.