Mercedes-Benz GLA45 AMG spied in Sweden
Wed, 16 Jan 2013 15:00:00 EST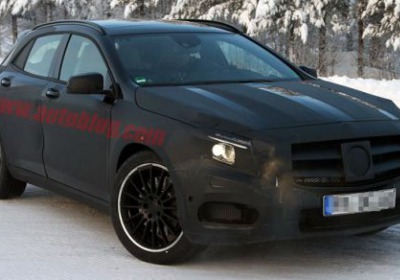 We've spotted the all-new Mercedes-Benz GLA testing a couple times in recent months in getting closer to production form and shedding camouflage, but now it looks like we're see our first look at the AMG version of this compact crossover. The low ride height might trick some into thinking that we're just seeing the already-confirmed A45 AMG out testing, but the unique beltline, rear doors and side windows confirm this is some version of the GLA-Class.

What makes us so confident that this is the AMG model? Well, for starters, this prototype has beefier brakes with cross-drilled front and rear rotors and bigger front calipers, but it also sports dual exhaust outlets poking through the rear fascia and a suspension that has been lowered considerably. Our spy shooters said that this car's exhaust note made it almost certainly an AMG model.

Just to be clear, the GLA AMG will not be powered by a 4.5-liter engine. The closely related A45 AMG will carry the "45" in its name to celebrate the first 45 years of AMG, and our sources seem to indicate the AMG version of the GLA will do the same. We're expecting this sporty crossover to produce as much as 350 horsepower from its AMG-tuned four-cylinder engine, and like the all-new E63 AMG, it could very well come standard with 4Matic all-wheel drive.

With the standard GLA-Class not expected to debut until this fall at the Frankfurt Motor Show, the GLA45 AMG might have to wait until sometime next year to get its official introduction; although, as a note, Mercedes-Benz did reveal all of its E-Class models (including the E63 AMG) at the same this week at the Detroit Auto Show.
---
By Jeffrey N. Ross
---
See also: VW looking to MAN up, ditch Mercedes van deal, 2014 Mercedes-Benz E63 AMG rumbles on stage 4Matic style, 2014 Mercedes-Benz E-Class lineup shows its freshened face.