Mazda Furai concept designer talks about his car's passing
Tue, 17 Sep 2013 15:31:00 EST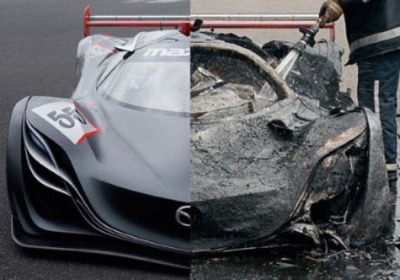 Last week, there was mourning at the Autoblog offices as word trickled in that the Mazda Furai concept – one of the coolest, best-looking showcars to grace an auto show stage since the wild and crazy 1960s –had been killed. It was killed on the track with the folks from Top Gear in attendance. We're sure the gods of driving would have wanted it to die on a circuit, but that doesn't make its fiery passing any easier to deal with.

The Furai is the rare concept car that had a lasting appeal with enthusiasts, partly because it was a real, functioning racecar, complete with a wacky three-rotor Wankel engine and cutting-edge Nagare design. Now that it's gone, though, Road & Track's Mallory McMorrow, who was an intern at Mazda Design when the Furai was being styled in 2007, has published an interview with one of the men who penned the Mazda showcar's striking exterior, Carlos Salaff. It's a great piece on the emotional connection between a designer and his creation, and one you should take the time to read. Click on over to R&T for the full story.
---
By Brandon Turkus
---
See also: Edmunds ranks the best used cars for 2013, Mazda6 diesel delayed until April, 2014 Mazda6: July/August 2013.