Lotus offers Exige S Roadster for sale, but not in North America
Thu, 23 May 2013 17:45:00 EST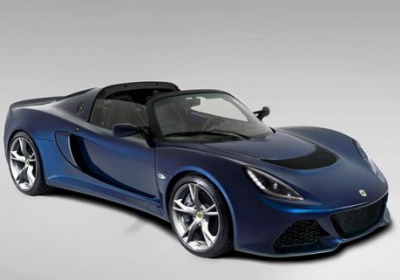 The first thing you need to know is that this is the Lotus Exige S Roadster, unchanged from the Exige S even in price and officially the fastest convertible Lotus has ever made. The second thing you need to know is that if you live in the US, you won't be getting this car.

Now that that's out of the way, the lack of a roof, rear wing and front splitter help make it 22 pounds lighter than the coupe, coming in a 2,565 pounds, and the supercharged 3.5-liter V6 in this topless blossom discharges 345 horsepower and 295 pound-feet of torque. For historical comparison with a non-convertible, those numbers nearly match the 2004 Lotus Esprit V8 Final Run edition - which had twin Garrett turbochargers. Yet the Exige S gets from a stoplight to 60 miles per hour in 3.8 seconds, nearly a full second quicker than that Esprit. Fair play, though, the Esprit did weigh 3,040 pounds.

It will be fitted with a six-speed manual only, and cost 52,900 pounds ($79,667 US), 55,378 euros ($71,404 US) or 8,500,000 yen ($82,078 US), depending on where you live. Here in the US we'll be sticking with the track-only Exige V6 Cup and Cup R models. The press release below offers more on the fine points.

Get ready for the fastest ever Lotus convertible!

22 May 2013 -- This summer the critically acclaimed Lotus Exige S loses its roof and gains a new character. As capable as its coupe counterpart, the Exige S Roadster retains all the intent of a race-bred sports car but also possesses the poise of a sleek convertible.

Sitting alongside the Exige S, Exige Cup and Exige Cup R, the Exige S Roadster completes the Exige line-up and enhances the track focused collection by providing a new facet to the range. Powered by the same 3.5L V6 as the coupe variants and weighing in at 10kg less than the Exige S at 1166kg, none of the exhilarating performance of the phenomenal Exige range is compromised, yet the driver is only 'two clicks and a roll' away from cruising in open-top style thanks to the lightweight, factory-fitted soft top.

Achieving 0-60 mph from standing in 3.8 seconds, delivering 345 hp at 7,000 rpm (350 PS) and 295 lb. ft. of torque at 4,500 rpm, the Roadster matches the coupe's mechanical performance and retains its £52,900 price tag, but style takes an understated approach having shed its rear wing and front splitter to maximize airflow over its sleek silhouette.

The introduction of the new Exige to the Lotus product range has provided a new opportunity for the Norfolk based sports car brand to expand and strengthen its production resource, generating new jobs and opportunities for skilled individuals who want to be part of the Lotus story.

The Exige S Roadster is the perfect car for a 'joy' ride; what better way is there to enjoy the panoramic views of the world's most beautiful roads than when they are enhanced by the purposeful roar of a V6 soundtrack and to feel the wind in your hair and sun on your skin?

Exige S Roadster is now available to order with the full list of options and extras as available on the Exige S coupe, with the extra interior option of quilted leather seats and door trim details.

The Exige S Roadster at a glance:
· Max Power 345 hp (350 PS) at 7,000 rpm
· Max Torque 295 lb. ft. (400 NM) at 4,500 rpm
· 0 – 60 mph 3.8 seconds
· 0 – 100 km/h 4.0 seconds
· Max Speed 145 mph (233 km/h)*
· Weight 1166 kg

The Exige S Roadster in more detail:
Engine: Mid-mounted, transverse 3.5-liter DOHC V6 VVTi, 24-valve equipped with Harrop HTV 1320 Supercharger.

Transmission: 6-speed manual with sports ratios only from launch. Paddle shift options for Exige S Roadster will be considered subject to demand.

Suspension: Fully independent double wishbone suspension with front and rear anti-roll bar. Bilstein high performance gas dampers and Eibach coaxial springs.

Braking & Dynamic systems:
· AP-Racing four-piston calipers, ventilated and cross drilled rotors.
· Lotus / BOSCH Developed ABS/ESP system.
· Hydraulic Brake Assist (HBA).
· Electronic Brake Distribution (EBD).
· Cornering Brake Control (CBC).
· Lotus Dynamic Performance Management (Lotus DPM).

Wheels & Tyres: Lightweight cast alloy wheels (17" front and 18" rear) clad with Pirelli P-Zero Corsa tyres.

Pricing: Prices below are an illustration of pricing structures in selected markets only.
Exige S and Exige S Roadster
UK (incl VAT) - £52,900 GBP
EU (Excl Taxes) - € 55,378 Euros
Japan (Inc Taxes) - ¥8,500,000 YEN

The Exige V6 Cup and Exige V6 Cup R Lotus Racing variants are available in North America for track use only. The Exige V6 Cup is priced from $98,950 for the base model and the Exige Cup R from $109,950 (both prices excluding the $1,500 destination charges).

Fuel consumption for Exige S is – urban 19.5 mpg – 14.5 litres / 100km, extra urban 37.2 mpg – 7.6 litres / 100km, combined – 28.0 mpg – 10.1 litres / 100km. CO2 emissions 236 g CO2 / km.
---
By Jonathon Ramsey
---
See also: Recap: 2013 Spanish Grand Prix is Catalan for 'Lottery' and 'More pit stops', Lotus Exige S Roadster coming this summer to a circuit near you, Race Recap: 2013 Bahrain Grand Prix follows the template of this year and last [spoilers].