Lotus getting into the motorcycle business
Fri, 21 Jun 2013 18:29:00 EST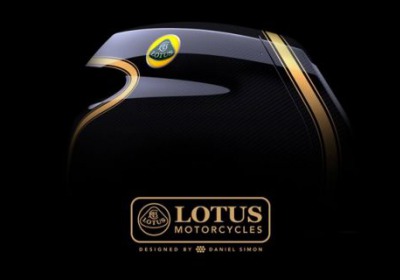 Lotus founder Colin Chapman is famously quoted as saying something to the effect of "Simplify, then add lightness." We're a bit amazed that it took this long, but someone appears to be taking that message to heart at the British marque, losing a couple of wheels, a clutter of bodywork and a whole mess of weight. No, Lotus isn't planning another spindly Seven-style trackday racer, it's getting into motorcycles.

Well, sort of. As an automaker, Lotus apparently isn't directly behind this two-wheeled effort, but it does appear to have officially lent its brand and logo to a new company, Lotus Motorcycles, which counts former Volkswagen Group designer Daniel Simon, Germany's Holzer Group and auto racing team Kodewa among its partners. The latter builds and races Lotus' T128 Le Mans Prototype in the World Endurance Championship series.

The new company is touting an as-yet unseen motorcycle, a racing-inspired "hyper bike" called C-01, releasing only the image above – a carbon fiber fuel tank trimmed in Lotus' trademark black and gold livery. Details are tough to come by, but the project is said to include a powertrain good for around 200 horsepower and construction involving titanium, carbon fiber and aerospace-grade steel.

The C-01's shape will come from Simon, a designer who has not only worked at Bugatti, he's also credited with a few Hollywood fantasymobiles, including the Lightcycle from Tron: Legacy and more recently the "Bubbleship" spacecraft used by Tom Cruise in Oblivion. The company promises that the legendary Lotus 49 racecar was a "main inspiration" in its conception, and "all color schemes pay homage to iconic Lotus racing liveries." We can't wait to see more, but we'll have to – at least a little while. The company says we can expect further images and information in "the next few weeks." For more, check out the company's statement released via Facebook by scrolling below.

Lotus Motorcycles to build its own and first ever motorcycle

Lotus Motorcycles was established to design and build the first motorcycle of the iconic car manufacturer. The bike will be named Lotus C-01 and will be the most impressive appearance on public roads on two wheels. It will reflect a combination of lifestyle, design and high end technology.

Lotus Motorcycles is a joint project of Kodewa, car designer Daniel Simon and the Holzer Group. The Lotus C-01 will be a hyper bike with integrated racing technology. It will be manufactured of materials like carbon, titanium and aerospace quality steel, which are also used in Formula 1. Safety, ergonomics and design are the most important factors the design team has put emphasis on. It will be a state of the art motorbike powered by an approximately 200 horsepower engine.

Kodewa has recently built the new sports car Lotus T128 LMP (Le Mans Prototype) and is running the Lotus LMP2 program in the FIA World Endurance Championship. The team of Kodewa comprises of experts with a lot of knowledge and experience not only in endurance racing but also Formula 1, DTM and lower formulas.

The unique shapes of Lotus Motorcycles will be penned by renowned designer Daniel Simon. Simon, a former designer for Bugatti Automobiles, has lately been responsible for some of the most sophisticated concept vehicles in Hollywood film history. Amongst his most recognizable contributions are the 'Lightcycle' in the 2010 Disney motion picture 'Tron: Legacy' and the 'Bubbleship' used by Tom Cruise in the recent Universal Sci-Fi hit 'Oblivion'. The German was also designing the famous black and gold livery of the Lotus LMP2 sports cars.

Daniel Simon is known for his clean and holistic concepts. The designer says: "With the Lotus C-01, we have only one ambition: to create a unique state-of-the-art machine that carries its brutal forces with elegance and style, a high-tech monster in a tailored suit. The C-01, with all its top notch components and materials, is first and foremost emotional, heartbreaking, at times playfully retro, and always clearly a Lotus. Lotus is a glamorous name with a rich history, and the C-01 celebrates it proudly: the shapes of the marvelous Lotus 49 were a main inspiration, and all color schemes pay homage to iconic Lotus racing liveries, such as the dashing black and gold. The intersection of past and future never fails to fascinate, and so does the unique idea of the C-01."

Within the Holzer Group, the Performance GmbH is involved in the development process. The components made of titanium, carbon fibre and aerospace steel will be produced by RPC GmbH, which is also part of Holzer Group and Kodewa. Latest CNC machines linked with CAM workstations ensure highest precision and optimal workflow of the complex procedures. Because of quality inspections before, during and after the production process, a safety-related and faultless production is ensured.

In the next few weeks, images of Lotus Motorcycles will be released and will give a first insight into what to expect from the new Lotus C-01.
---
By Chris Paukert
---
See also: Stock Miata beats bunch of high-powered cars in wet 1/4-mile drag race, Race Recap: For the 2013 Monaco Grand Prix, NASCAR comes to the principality, Lotus offers Exige S Roadster for sale, but not in North America.