Lexus builds final LFA supercar
Mon, 17 Dec 2012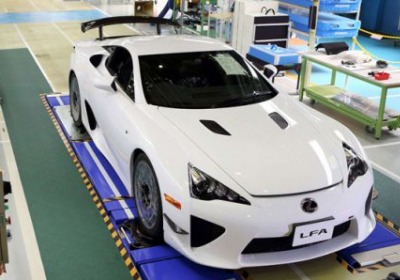 Lexus has officially built the very last LFA. The 500th Lexus supercar rolled from the company's Motomachi facility on December 14th wearing all of the goodies of the Nürburgring package and white paint. Toyota's Lexus division started production on the car exactly two years ago on December 15, 2010 and built just one unit per working day. A total of 170 workers were hand-picked to handle parts manufacturing, assembly and painting for the LFA project. While Lexus has made it clear it will produce no more LFA models, lessons gleaned from the vehicle's construction may translate into other future products.

Specifically, Toyota says it may employ its carbon fiber reinforced plastic experience moving forward. As you may recall, the LFA made extensive use of CFRP and carbon fiber, and Lexus even created a special rotary loom to stitch together the supercar's A-pillars. Take a look at the brief press release on the last LFA below.

500TH AND LAST LFA LEAVING THE PLANT

• Last LFA produced on December 14, 2012
• Learning from LFA engineering and production influencing new Lexus products
• In-house production of Carbon Fibre Reinforced Plastic (CFRP) components for know-how gain to be used in future products

Brussels, Belgium -
On December 14, a white LFA Nürburgring Package, the last of the 500 planned LFA supercars, left TMC's dedicated production facility at the Motomachi Plant, Aichi Prefecture.

This marks the end of a key chapter for Lexus, one in which people's perceptions and understanding of the brand have been challenged, and perhaps changed forever.

The learning and passion gained from engineering and producing a world-class supercar can already be seen in the products recently launched by Lexus - across the whole range, not just those carrying the F Sport badge.

In that sense, the spirit of the LFA will live on; it will be fondly remembered for being the car that marked the start of significant change for the Lexus brand.

The development of the supercar started from a blank sheet of paper. CFRP was used for a significant percentage of the vehicle's components, taking benefit of the material's exceptional strength, rigidity and light weight to achieve a breakthrough in supercar manufacturing. CFRP production took place in-house in order to gain valuable know-how to be used in future products.

'I've lived and breathed supercars for the past decade. – remembers Haruhiko Tanahashi, the LFA's Chief Engineer. – Specifically one supercar. The LFA. Very few people have the opportunity we had: to create a world-class supercar from a blank sheet of paper.'

Production at LFA Works started exactly two years ago, on December 15, 2010, and included a team of around 170 hand-picked takumi workers involved in parts manufacturing, vehicle assembly and painting. The high performance LFA was produced at the rate of just one unit per day.
---
By Zach Bowman
---
See also: Consumer Reports: Toyota expected to announce fix for emergency trunk releases, Lexus gives Jay Leno a shot at driving its 2014 IS, 2014 Lexus IS prototype.