Lexus bringing next-gen IS to Detroit
Tue, 04 Dec 2012 15:44:00 EST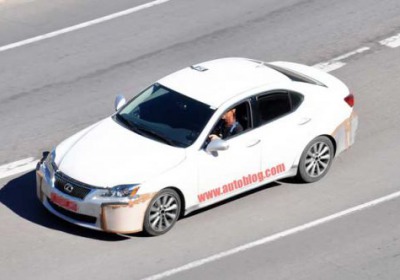 With ES, GS and LS models all now minty fresh at your local Lexus showroom, it was only a matter of time before we had official word that the company's IS had a replacement in the wings. That word has come down today in an ultra brief press release that names the date and venue that the sheet will be pulled on the new car: January 15th in Detroit at the North American International Auto Show.

Don't pay too much attention to the test mule in these dusty spy shots, we're told that the small Lexus has been "completely redesigned" from the inside out and that it has drawn inspiration from the sultry LF-CC concept car. In LA we learned that the LF-CC has been green-lit for production, so we'd expect to see a lot of cues from that car (in the gallery below) lifted directly for the all-new IS. New fang-face, here we come.

While a coupe and a convertible version of the next IS are undoubtedly in the cards, too, we'd guess that the sedan will be first to go on stage at Detroit next month.

December 04, 2012

All-New Lexus IS to Make World Debut at the North American International Auto Show

TORRANCE, Calif., (Dec. 4, 2012) - Lexus will reveal the all-new IS on Tuesday, Jan. 15 at the North American International Auto Show in Detroit.

Inspired by the acclaimed LF-CC concept and with design cues of the LFA, the new IS has been completely redesigned, inside and out.

The Lexus press conference will be shown live online at www.lexus.com.
---
By Seyth Miersma
---
See also: Lexus LF-CC gets green light, Evoque rival under consideration, Lexus LF-LC Concept goes blue, remains happy, J.D. Power: Mini, Lexus again offer most satisfying sales experience.