Leak confirms Maserati product plans, five new models
Fri, 28 Dec 2012 17:44:00 EST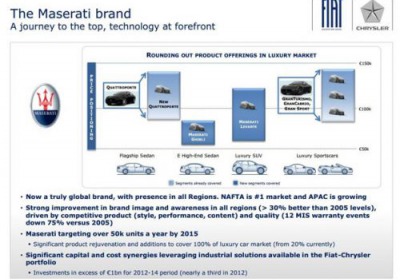 It isn't a secret that Maserati is planning a product expansion in an attempt sell 50,000 units annually by 2015, but the automaker hasn't officially announced just how it plans to do so. Yes, we've seen (and driven) the 2014 Quattroporte, checked out spy shots for the smaller Ghibli sedan and Maserati even confirmed the Levante name for its SUV, but a leaked document reported by CarScoop could shed some light on how the Italian automaker intends on carrying out its rapid growth.

According to the image, the new Ghibli and Levante models will considerably lower the entry price point for the Maserati brand with the sedan having a price range from around $72,000 up to just over the $100,000 mark, with the SUV starting at close to $80,000 and topping out at almost $200,000. It also looks like the GranTurismo and GranCabrio will be getting redesigned in the near future at which point the new Gran Sport model will be added to the mix – otherwise known as the which often-rumored sports car with which Maserati will do battle with the Porsche 911.
---
By Jeffrey N. Ross
---
See also: 2014 Maserati Ghibli prototype spied for the first time, Maserati planning second smaller SUV?, 2014 Maserati Quattroporte [w/video].