Last 2014 Ford Shelby GT500 Convertible nets $500k for charity at Barrett-Jackson [w/video]
Tue, 13 Aug 2013 09:30:00 EST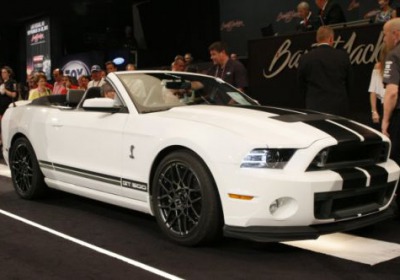 The last 2014 Ford Shelby GT500 Convertible was sold on Saturday at a Barrett-Jackson auction in Reno, Nevada, for $500,000. Ford donated the Mustang to be auctioned for charity, and all of the money is going to the Brain Injury Association of America.

Parnelli Jones, winner of the 1963 Indianapolis 500, was there on behalf of the BIAA with his son Page, who suffered a brain injury in a sprint car crash in 1994. The bidding increased quickly, reaching $500k in no time, spreading a bit more hope to people who live with brain injuries.

The winning bidder will be able to choose the GT500's exterior, interior and stripe colors, and is scheduled to receive the car, signed by Parnelli Jones in appreciation for the donation, by the end of 2013. Watch the video below to see the auction-block action.



---
By Damon Lowney
---
See also: Ford Focus Electric and ST recalled over lighting issue, Ford pulls official support from top-level NHRA teams, Shelby GT500 and Roush Stage 3 go head to head at the drag strip.