Lamborghini Veneno makes North American debut
Sat, 17 Aug 2013 12:15:00 EST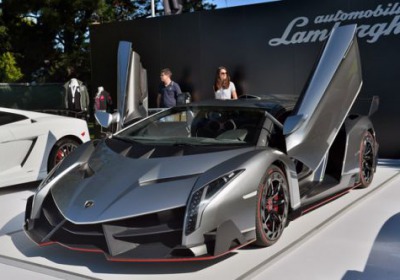 Love it or hate it, the Lamborghini Veneno is an incredible – and incredibly rare – car. With Lamborghini committed to building just three examples of the Veneno, it's very likely that we'll only ever see this pre-production show car in our lifetime.

That doesn't mean we'll be any less excited about laying our eyes on this fine example of the world's most-expensive production car, which we recently did as the Veneno made its US debut at the Quail Motorsports Gathering. Now that we see it again, it might look even better under the California sun than it did the last time we saw it under the bright lights of the Geneva Motor Show. Now, if we could just find the keys...
---
By Jeffrey N. Ross
---
See also: Lamborghini unveils 50th anniversary Aventador Roadster and Gallardo, Use your Lamborghini Aventador to roast weenies, Lamborghini Gallardo Squadra Corse will cost $260K* and only come in yellow.