Kia recalls 9,700 new Sorento models for potential front axle failures
Wed, 21 Aug 2013 15:20:00 EST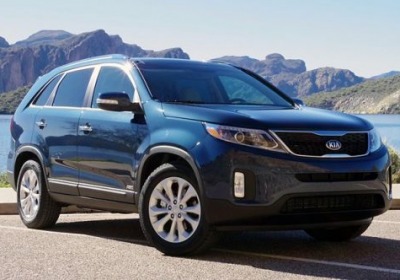 Kia has announced a recall on the 2014 Sorento due to an issue that could lead to a broken right front driveshaft on certain models. Only models equipped with the 2.4-liter inline four-cylinder engine and front-wheel drive are affected by the campaign.

The National Highway Traffic Safety Administration says that Sorento models built between January 7 through March 12 of this year may experience broken axle shafts that could lead to loss of power or cause the vehicle to roll if parked. According to the Detroit Free Press, a total of close to 9,700 units are being recalled, but that number is closer to 9,300 for customers in the US.

Kia says that it has had one incident with an internal vehicle that experienced a separated axle shaft in addition to 10 related warranty claims, but it says no accidents or injuries have been reported. The recall campaign will begin next month. Scroll down for the NHTSA recall notice as well as an official statement from Kia.

RECALL Subject : Right Front Axle Shaft Can Fracture
Report Receipt Date: AUG 13, 2013
NHTSA Campaign Number: 13V356000
Component(s): POWER TRAIN
Vehicle MakeModelModel Year(s): KIASORENTO2014
Manufacturer: Kia Motors Corporation

SUMMARY:
Kia Motors Corp. is recalling certain model year 2014 front wheel drive Sorento vehicles manufactured January 7, 2013, through March 12, 2013; and equipped with 2.4 liter engines. Due to a manufacturing issue, the right front axle shaft may fracture.

CONSEQUENCE:
A fractured front axle may result in a loss of power to the wheels. Additionally, if the vehicle is parked without the parking brake applied, it may roll away. Either condition increases the risk of a crash.

REMEDY:
Kia will notify owners, and dealers will replace the front axle shaft assembly, free of charge. The recall is expected to begin in September 2013. Owners may contact Kia at 1-800-333-4542 . Kia's recall number is SC099.

NOTES:
Owners may also contact the National Highway Traffic Safety Administration Vehicle Safety Hotline at 1-888-327-4236 (TTY 1-800-424-9153), or go to www.safercar.gov.

===============

2014 SORENTO RIGHT FRONT AXLE DRIVESHAFT REPLACEMENT
VOLUNTARY SAFETY RECALL CAMPAIGN
Date: August 13, 2013
Model(s): 2014 Sorento
Vehicle Population: 9,345
Component(s): Right Front Axle Driveshaft

Summary: Kia Motors America (KMA) is voluntarily recalling certain 2014 model year Sorentos. Through its regular monitoring of field data, KMA has determined that the right front axle drive shaft of affected vehicles may develop a crack in the area of the stub at the wheel-end of the shaft. Should this occur, the vehicle may lose power or, if the driver fails to engage the parking brake when parked on an incline, the vehicle may roll. The vehicles having this condition are the 2014 model year Sorento 2.4-liter front-wheel-drive (FWD) model produced through March 12, 2013. All other Sorentos are not affected by this recall, including the 2014 2.4-liter engines equipped with all-wheel drive (AWD) and the 3.3-liter engines Sorentos equipped with either FWD or AWD. KMA is not aware of any injuries or accidents.

KMA Action: All affected vehicles will be repaired at no expense to the owner. Beginning in September, KMA will notify owners via mailed letter campaign, directing them to take their vehicle to the nearest Kia dealership where the right front axle driveshaft will be replaced. Consumers with questions may contact KMA consumer assistance at 1-800-333-4542.
---
By Jeffrey N. Ross
---
See also: What a strike in Korea could mean for US Hyundai and Kia buyers, Hyundai, Kia recall 270,000 cold-weather state vehicles over rust, Next-gen Kia Sedona drops more camo, shows KV7 cues.