Kia provides first details on Soul EV arrival, specs
Mon, 11 Nov 2013 09:59:00 EST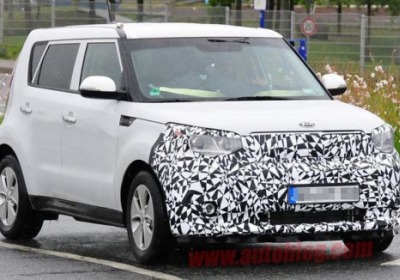 When Bob Dylan and his guitar-driven poetry embraced the amp in the mid-Sixties, he famously endured cries of "Judas!" from at least one dejected folkie. The Voice Of A Generation had gone electric, and apparently not all of his concert-goers were ready for the transition. We suspect the Kia Soul and its dancing hamsters will have an easier time of it.

In early October, Kia confirmed what had already long been rumored – the Soul is going electric, too, and now it's revealing some initial details and specs. The automaker's mega-popular 'box' car will be the company's first EV sold in North America – or indeed, anywhere outside of its home market (Kia has offered its tiny Ray EV to government fleets in Korea in limited numbers). For the moment, officials aren't saying exactly when the Soul EV will hit its North American dealers, but it has pinned down the "second half of 2014," for global overseas deliveries to begin, so it's fair to assume the car will carry a 2015 model year designation.


Kia is touting "class-leading range" in excess of 120 miles
And just what will Soul EV buyers have to look forward to? Kia says the model will feature an electric motor with 109 horsepower and 210 pound-feet of torque backed by a 27-kilowatt-hour lithium-ion polymer battery pack, figures that compare favorably with the 2013 Nissan Leaf (107 hp, 187 lb-ft, 24 kWh). Official estimates call for the 0-62 mph dash to fall in under 12 seconds, which isn't much longer than the gas-powered 2014 model takes with its 164-hp, 2.0-liter four-cylinder engine. Top speed should be around 90 mph.

Kia is touting "class-leading range" in excess of 120 miles, though real-world figures are likely to be in the ballpark just north of the 75 or so miles the 2013 Leaf can muster. Charge times for the Soul EV are said to be on the order of 5 hours using a 240-volt home quick charger or 25 minutes on a 100-kW output charger (the sort usually found in a commercial environment) and Kia says the car will emit an audio tone at speeds under 12 mph and in reverse to address pedestrian safety concerns associated with the EV's otherwise very quiet drivetrain.

No word yet on pricing or availability (it's probably safe to assume the Soul EV won't get a coast-to-coast rollout, instead focusing on select markets like California), but we'll have our first impressions from a prototype drive in Korea shortly, so stay tuned. In the mean time, see the official press release below for more details.

All-Electric Kia Soul Under Development For U.S. Market

New Kia Soul EV targets a range of more than 120 miles
109-hp motor produces 210 lb.-ft. of torque for an electrifying driving experience
Ideal for city commuters, the Soul EV will go on sale in 2014

IRVINE, Calif., Nov. 11, 2013 /PRNewswire/ -- Kia Motors has confirmed the development of an all-electric version of the Kia Soul, scheduled to go on sale in 2014. The 'Kia Soul EV' will be Kia's first all-electric, zero-emissions vehicle marketed outside of Korea.

"The new Soul EV will be at the forefront of Kia's 'Clean Mobility' program, which aims to provide environmentally-friendly vehicles to our customers around the world, when it goes on sale globally next year," said Kia Motors America's executive director of product planning, Orth Hedrick. "Although it is Kia's first globally sold all-electric vehicle, the Soul EV is our second-generation battery electric vehicle and significantly benefits from the in-depth knowledge gained during development of the Ray EV sold in Korea."

The Soul EV takes its design cues from the recently-launched second-generation Kia Soul. With a target range of more than 120 miles, this uniquely designed battery electric vehicle is practical for everyday use and perfectly suited for city commuters.

Equipped with a high-capacity 27 kWh lithium-ion polymer battery pack, the Soul EV is expected to offer a driving range of more than 120 miles on a single charge. In an effort to maximize efficiency and range, the vehicle recycles back into the battery the energy generated while the car is coasting and braking.

The Soul EV makes charging easy by plugging into any standard outlet. Recharging times are up to five hours for a fully depleted battery using a standard 240v outlet, or 25 minutes on 'fast' charge with 100 kW output.

The front-wheel drive Soul EV prototype test cars currently under development are built on modified versions of the 2014 Kia Soul and are powered by a 109-hp electric motor, producing a generous 210 lb.-ft. of torque. The motor delivers its power to the front wheels through a single speed constant ratio gear reduction unit. Accelerating from 0-62 mph in less than 12 seconds with a top speed in the region of 90 mph, the Soul EV promises to remain true to the Soul's fun-to-drive reputation.

The absence of engine noise, combined with special sound-proofing materials offers drivers an exceptionally quiet ride. For the benefit of pedestrian safety, the Soul EV will be equipped with a Virtual Engine Sound System (VESS) that emits an audio alert at speeds below 12 mph and whenever the car is in reverse.

Like the 2014 Kia Soul, the Soul EV will have head-turning styling and exterior features that project a cutting-edge image. The smooth new look is inspired by the 2012 Kia Track'ster concept and retains the iconic square-shouldered broad stance of the original Soul.

When it goes on sale in 2014, the Soul EV will offer projection type headlamps, LED positioning lamps, LED rear combination lamps, plus aerodynamically shaped 16-inch alloy wheels.

Inside the cabin, the vehicle is fitted with a unique Supervision instrument cluster and center stack with an eight-inch display screen. In keeping with its eco-friendly ethos, the interior components and trim will use an increased range of recycled materials including Bio Plastic, Bio Foam, Bio Fabric and Bio PET Felt, together with low volatility organic compounds and newly developed antibacterial materials and paint.

Kia: One of the World's Fastest Moving Global Automotive Brands

Kia Motors America is one of only three auto brands to increase U.S. sales in each of the past four years, and in 2012 the company surpassed the 500,000 unit mark for the first time. With a full line of fun-to-drive cars and CUVs, Kia is advancing value to new levels of sophistication by combining European-influenced styling – under the guidance of chief design officer Peter Schreyer – with cutting-edge technologies, premium amenities, affordable pricing and one of the lowest costs of ownership in the industry. Kia recently moved up in the exclusive ranking of Interbrand's "Top 100 Best Global Brands" after joining the list for the first time last year, and is poised to continue its momentum with seven all-new or significantly redesigned vehicles scheduled to arrive in showrooms in 2013. Over the past decade Kia Motors has invested more than $1.4 billion in the U.S., including the company's first U.S. assembly plant in West Point, Georgia – Kia Motors Manufacturing Georgia – which is responsible for the creation of more than 14,000 plant and supplier jobs. The success of the U.S.-built* Optima and Sorento in two of the industry's largest segments has fueled Kia's rapid growth and is complemented by Kia's comprehensive lineup which includes the Cadenza flagship sedan, Soul urban passenger vehicle, Sportage compact CUV, Optima Hybrid, the Forte sedan, Forte5, and Forte Koup compacts, Rio and Rio 5-door sub-compacts and the Sedona minivan.

About Kia Motors America

Kia Motors America is the marketing and distribution arm of Kia Motors Corporation based in Seoul, South Korea. KMA offers a complete line of vehicles through more than 765 dealers throughout the United States and serves as the "Official Automotive Partner" of the NBA and LPGA. In 2012, KMA recorded its best-ever annual sales total and gained U.S. market share for the 18th consecutive year. Kia is poised to continue its momentum and will continue to build the brand through design innovation, quality, value, advanced safety features and new technologies.

Information about Kia Motors America and its full vehicle line-up is available at its website – www.kia.com. For media information, including photography, visit www.kiamedia.com. To receive custom email notifications for press releases the moment they are published, subscribe at http://www.kiamedia.com/us/en/newsalert.

* The Sorento and Optima GDI (EX Trims and certain LX Trims only) and GDI Turbo are built in the United States from U.S. and globally sourced parts.
---
By Chris Paukert
---
See also: Music-inspired Kia Souls overload our senses, Kia putting GT Concept into production, roadster concept due in Detroit, Kia K900 confirmed for LA Auto Show debut.