Kia confirms Cub "four-door coupe" concept for Seoul
Mon, 25 Mar 2013 10:00:00 EST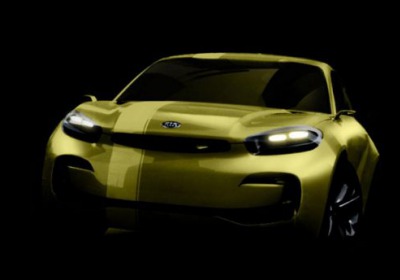 Kia has announced it is headed to the Seoul Motor Show with a new sedan concept. Details are still scarce, but the Kia CUB Concept should be small, at under 13 feet long and come with coupe-like proportions. Kia wants the vehicle to "appeal to trend-setting urban dwellers," a notoriously car-hungry market. The automaker says the Cub has a cheerful face decorated with two-point LED headlamps just like those found on the Quoris flagship, but the teaser image above looks a bit more sinister than happy to us. Kia plans to give the Cub a proper unveiling on March 28.

Hyundai has also given us a glimpse at what the company has planned for Seoul with its HND-9 luxury sports coupe. You can refresh yourself on that machine by checking out the post here. You can also take a closer look at the brief press release below.

NEW KIA CUB TO SPRING A SURPRISE IN SEOUL

25/03/13

Kia Motors will reveal an all-new, compact, four-door coupe concept on Thursday, March 28th at the Seoul International Motor Show.

The new Kia 'CUB' is less than four metres long and is styled to appeal to trend-setting urban dwellers.

CUB is both sleek and small, with a super-smooth exterior, a cheerful face, a daring character and headlamps that feature two-point LED lights – similar to those on the Kia Quoris flagship saloon that is available in certain markets outside of Europe.

Full details of the Kia CUB concept will be released at 11.10 a.m. (local time – 2.10am GMT) during the Kia press conference on March 28th.
---
By Zach Bowman
---
See also: 2014 Kia Forte sedan priced from $15,900*, Kia to green-light GT and Provo for production?, Provo concept name has Kia embroiled in terrorism controversy?.