Key-swapping thieves steal Jeep Grand Cherokee SRT from FL dealer
Sat, 09 Nov 2013 20:20:00 EST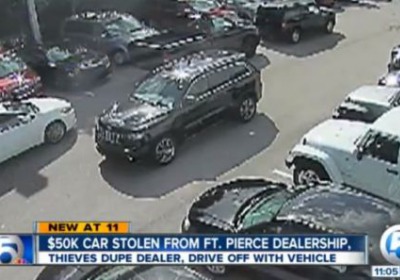 Just a few weeks back, we reported on the theft of an Audi RS5 by a pair of creative thieves who managed to swipe the car's keys when the salesperson stepped away from their desk. Now, a Florida dealership is missing a Jeep Grand Cherokee SRT8 after some crooks switched the Jeep's keys with an identical, non-functioning set.

According to the report from local NBC affiliate WPTV, the men went in and spoke to a dealer about the Jeep. They walked outside, took a look at it, started it up and in the process managed to switch out the fobs. After doing their time with the salesperson, the thieves walked back out to the car, got in and drove away.

"I mean obviously, the way it was done, I think that they were professionals and they knew what they were doing," said Arrigo Jeep General Manager Joe Tufo. "The fact that they did it in broad daylight and switched the key fob and it was like it was nothing. That's what makes it unique," he added.

Take a look below for the entire report from WPTV in south Florida.



---
By Brandon Turkus
---
See also: Jeep Wrangler Copper Crawler is our idea of a restrained Mopar shopping spree, Jeep recalls 92k Grand Cherokee SUVs over electrical issue, Jeep Cherokee Trail Carver is a more rugged Trailhawk.