Jeep shows off Moab Easter Safari concepts crawling the red rocks
Thu, 28 Mar 2013 16:58:00 EST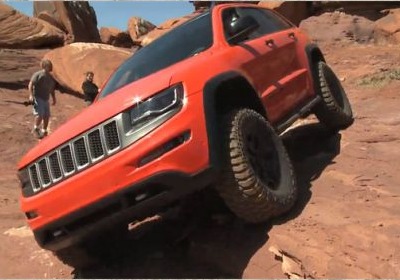 While most brands are busy showing off in New York, Jeep headed out to Moab for the Easter Jeep Safari with the company's fleet of 2013 concepts. This year saw the Grand Cherokee Trailhawk II, Wrangler Mopar Recon, Wrangler Stitch, Wrangler Sand Trooper II, Wrangler Flattop and Wrangler Slim Concepts tackle the rocks and sand, and Jeep was kind enough to bring along a camera crew to film the machines rolling over a few obstacles. The result is the video below, though don't expect to see too much hardcore off road action.

Instead, the quick clip features more than a few interviews with Jeep executives, including Jeep Head of Product Design Mark Allen, explaining what makes the Easter Jeep Safari so important. You can check out the quick clip below for yourself, and be sure to thumb through our galleries of the concepts as well.


---
By Zach Bowman
---
See also: 2014 Jeep Cherokee dreams of Moab, crawls on stage [w/video], 2014 Jeep Cherokee flaunts its new contemporary curves, Jeep Cherokee faces on-sale delay.