Jay Leno's Garage features funnyman's 1963 Jaguar E-Type
Thu, 25 Apr 2013 12:45:00 EST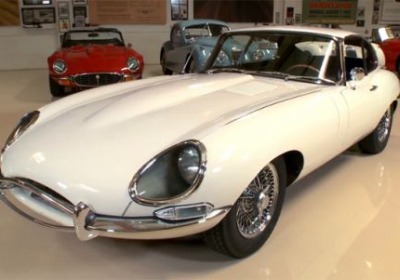 Jay Leno looks inward on this episode of his eponymous garage, checking out a 1963 Jaguar XKE that he bought earlier this year. It is an example of his favorite kind of car, that being original and unrestored. He bought the E-Type from its first owner, a woman who purchased it new, held on to it for 50 years and took excellent care of it. Having never been in an accident, Leno says even the paint is 85- to 90-percent original.

In the video, the XKE sits in front of two heavily modded XK120s and another '63 XKE, but Leno said all he's done – and all he plans to do – is clean it up and put on a modern set of wire wheels for safety.

He's not on any junket and there are no guests, it's just a guy talking about an object dear to his heart. If you need a refresher on the excellent genes of the new F-Type, check out the video below.




---
By Jonathon Ramsey
---
See also: Jaguar F-Type pitted against Porsche 911 Cabriolet by Tiff Needell, Jaguar releases Desire short film starring F-Type and Damian Lewis, Jaguar planning two bodystyles for next XJ.